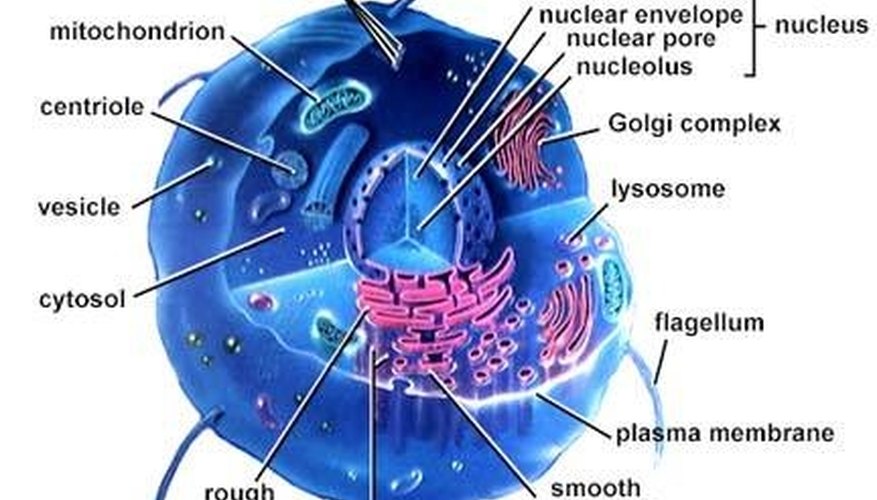 The human cellular structure is a complex system of metabolic reaction pathways, protein synthesis and a membrane that protects and wraps it. Within our tiny cells, several organelles, including our DNA, are constantly working to keep us running. Without our cell function, we lose the ability to survive. Find out the primary structures of the cell and their specific function.
The Nucleus
The cell nucleus is unique to an animal cell. The nucleus contains the deoxyribose nucleic acid (DNA) which holds the genetic code for protein synthesis. The nucleus is also the site for DNA replication, where cells divide to form two daughter cells. The nucleus is porous, allowing DNA transcripts (called mRNA) to leave the inner membrane to complete protein synthesis in the cytosol.
The Golgi Apparatus
The Golgi apparatus is the workhorse of the cell, packaging and helping synthesize macromolecules in and out of the cell. It provides functional transport for vital nutrients like lipids and proteins. The Golgi apparatus also helps the cell synthesize carbohydrates for modifying blood glucose levels for energy.
Mitochondria
Mitochondria is the energy factory for cellular respiration. As glucose in the cytosol breaks down into pyruvates, they are shuttled to the mitochondria and processed in the citric acid cycle, also know as the tricarboxylic acid cycle (TCA). The TCA cycle uses phosphorylation to break bonds and create the adenosine triphosphate (ATP) for cell energy. The mitochondria is also the location for lipid oxidation, which is the process of breaking lipids into its singular parts for energy.
The mitochondrial membrane is particular in the molecules it allows to cross. Only small molecules used in ATP synthesis can cross the outer membrane. The mitochondria also houses its own DNA, leading to the postulate that it used to be an individual cell that created a symbiotic relationship with animal cells millions of years ago.
Ribosomes
Ribosomes are small protein components in the cytosol of the cell that facilitates translation of mRNA to a functional protein. Ribosomes have tRNA which complement amino acids on the mRNA strand and create the polypeptides that are smaller components of larger proteins.
Cell Membrane
The cell membrane gives the cell its rigid structure. Its outer membrane is termed the "fluid mosaic" since it comprises several proteins and lipids situated within a lipid bilayer. The amphiphilic structure inhibits large molecules from entering the cells. Instead, macromolecules move across the cell membrane through transport proteins and ion pumps that facilitate the entrance of required biomolecules into the cytosol.