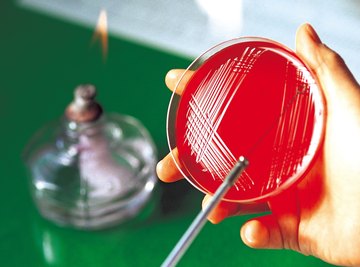 •••
Photos.com/Photos.com/Getty Images
When scientists want to know how many microorganisms there are in a solution of bacteria or fungi, it's usually too time-consuming to count every cell individually under the microscope. By diluting a sample of microbes and spreading it across a petri plate, microbiologists can instead count groups of microbes, called colonies, with the naked eye. Each colony is assumed to have grown from a single colony-forming unit, or CFU.
Colonial Times
Scientists can then use the CFU count to determine roughly how many microbes were in the original sample. For example, if 200 colonies are counted on a plate made with a 1-milliliter sample of a solution diluted 1,000 times from its original strength, the original solution contains approximately 200,000 CFUs per milliliter. Each CFU doesn't necessarily correspond to a single microbe, however; if the cells stick together in lumps or chains, the CFU instead refers to these groupings.
References
About the Author
Daniel Walton is a Cincinnati-based science writer whose articles have appeared on the blog Sword of Science and the Internet science hub Real Clear Science. He holds a Master of Science in crop science from the University of Illinois and grows a substantial vegetable garden in his backyard.
Photo Credits
Photos.com/Photos.com/Getty Images