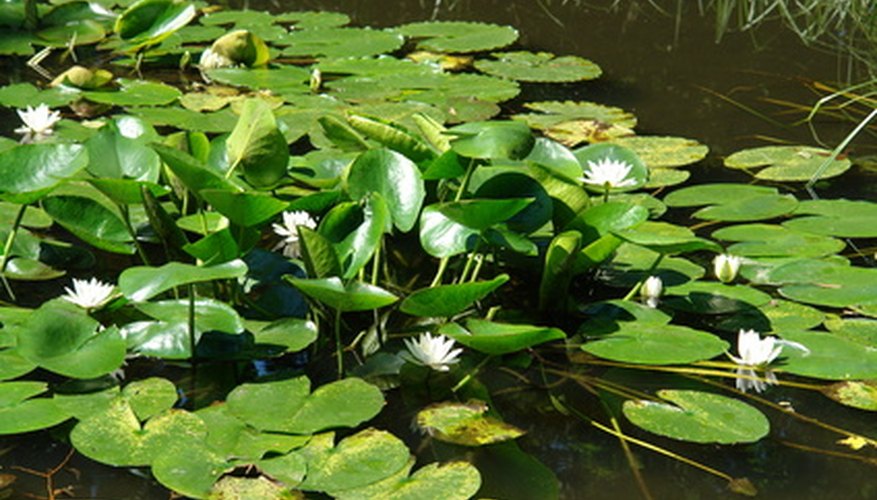 There are many varieties of aquatic plants and they range greatly in shape, size and appearance. While each aquatic plant species has its own unique features, they also share some important basic characteristics. Using these key characteristics, every type of aquatic plant can be put into one of three categories.
Submersed Plants
Some aquatic plants are classified as submersed. Characteristics of submersed plants include having all or almost all of the plant growing under water. Submersed plants are important because they provide food and habitat for fish and other wildlife, can increase water clarity, affect nutrient cycles and stabilize shorelines and sediments. Some examples of submersed plants include eel grass, sago pondweed, water milfoils and coontail.
Emersed Plants
Emersed aquatic plants include cattails, wetland iris and skunk cabbage. The major characteristic of emersed aquatic plants is that they having stems, leaves or flowers that grow out of the water. Leaves are aerial--meaning simply "in the air"--and are able to take advantage of the sunlight, but the plant is rooted to the bottom of the lake, pond, etc. These types of aquatic plants can vary greatly in shape and size. Some have large leaves and sizable flowers, while others are small and grow only a few inches above the water.
Free Floating Plants
All free floating and floating-leaved plants are characterized as having leaves that float on the surface of the water. They may or may not be rooted to the bottom of the lake, marsh, pond or bog that they grow in. Plants of this type can provide food and habitat for fish and other wildlife, reduce shoreline erosion and provide a stable surface to aid fish in spawning. Many of these types contain air chambers to make them buoyant. Examples of free floating plants include water meal, which is the smallest flowering plant in the world, and duckweed. Floating-leaved plants include water lilies, American lotus, spatterdock and water shield.