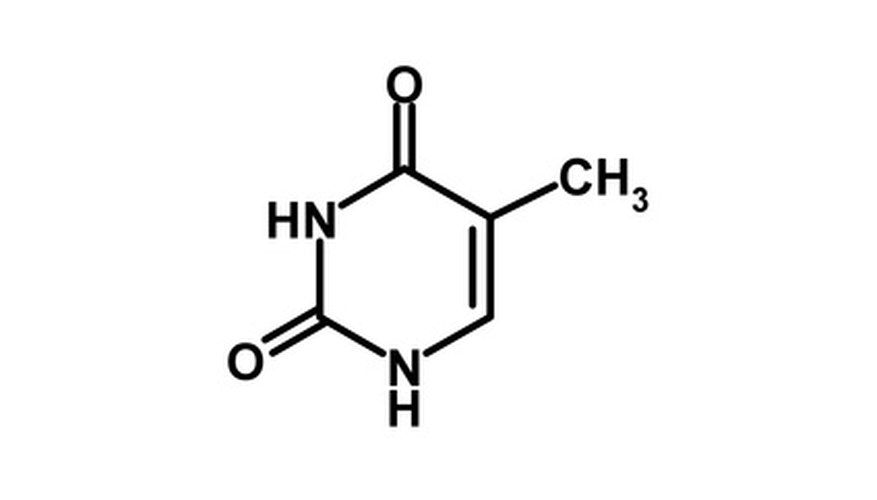 Nucleic acid, so named because it is found in a cell's nucleus, is a catch-all term for DNA and all types of RNA and is the means by which an organism stores, translates and passes on its genetic information. Nucleic acids are made of chains of nucleotides, which are composed of a five-carbon sugar, a base and a phosphate group.
Types
There are two main types of nucleic acids: two-stranded deoxyribonucleic acid, also known as DNA, and single-stranded ribonucleic acid, also known as RNA. DNA is the primary genetic storage molecule of animals, plants, fungi and other higher organisms known as eukaryotes. RNA is the main genetic storage molecule in bacteria and viruses, also called prokaryotes. Eukaryotes also use single-stranded RNA, copied from one half of a DNA molecule, as a means of decoding the information contained in the nucleic acid.
Nucleotides
Nucleotides, the sub-units comprising nucleic acids, consist of a five-carbon sugar attached to a phosphate as well as to a nitrogen-containing base. The sugar portion of RNA is ribose and of DNA is deoxyribose. This distinction gives rise to the 'R' in RNA and the 'D' in DNA.
Nucleotide Bases
The nitrogenous base of a nucleotide is one of five types: adenine, guanine, cytosine, thymine or uracil. Thymine exists only in DNA and is replaced by uracil in RNA. These bases are sometimes abbreviated as A, G, C, T and U. The order in which these bases are found on a nucleic acid encodes the information contained in the genome.
Complementary Base Pairs
In DNA, nucleotide bases join up in a very specific way across the two strands. Guanine on one strand is always paired, via a hydrogen bond, to cytosine on the opposite strand. Adenine is always joined to thymine in DNA molecules and to uracil in RNA; when RNA is copied, it temporarily becomes a two-stranded molecule.
Decoding
To decode the information contained within nucleic acids, they must be in a single-stranded form. DNA must be "unzipped" by an enzyme, breaking the hydrogen bonds between complementary base pairs. The section of DNA, known as a gene, to be expressed is transcribed by the formation of short piece of RNA in which all bases are complementary to the original DNA. Each three-base unit, known as a codon, codes for a particular amino acid. During the translation of the new piece of RNA, amino acids, the building blocks of proteins, are assembled in the order encoded in the codons of the RNA.