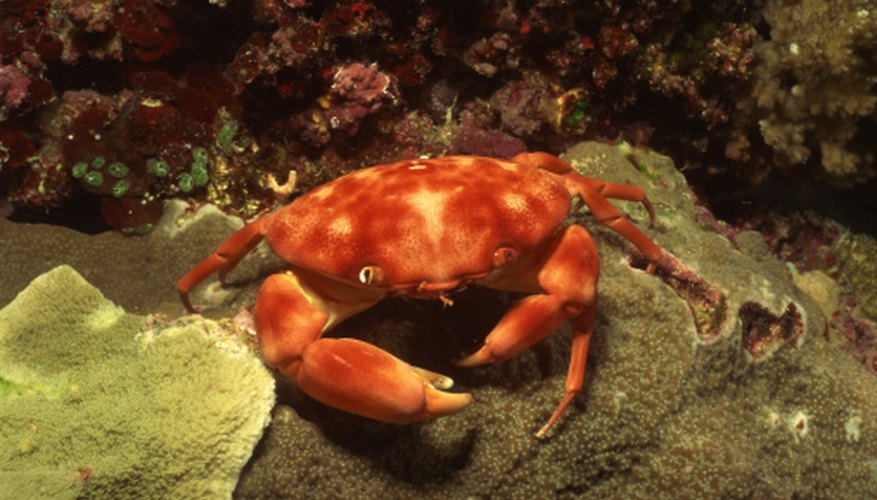 Comstock/Comstock/Getty Images
Biomes are clearly delineated geographic areas that contain plant and animal groups specially adapted to those environments. The marine biome is one of six major types -- the others are freshwater, desert, forest, grassland and tundra -- on Earth. Because water is the basis of all life, the freshwater and marine biomes are very important.
Marine Biome
Water covers nearly three-quarters of the Earth's surface, making the saltwater marine environment the largest biome of them all. The marine biome has three distinct areas — oceans, coral reefs and estuaries — that are home to thousands of species of flora and fauna. While each of the three areas transition seamlessly to one another, they each serve a unique purpose.
Oceans
The oceans are the largest and most diverse parts of the marine biome. They are separated into four zones: intertidal, pelagic, benthic and abyssal. The intertidal zone is where the ocean meets the shore, home to algae or seaweed and small animals. It's a dynamic zone, constantly changing with the tide. The open ocean is the pelagic zone, home to seaweed, plankton, fish and marine mammals. The benthic zone is below the pelagic, where the sand, silt and dead organisms lie. It's a nutrient-rich area, home to many species of marine animals. The deepest and coldest part of the ocean is the abyssal zone. Nutrients are sparse at this depth, but invertebrates and fishes still manage to thrive here.
Coral Reefs
Coral reefs come in three types -- barrier, fringing and atoll -- and are most commonly found in warm, shallow waters such as off the Florida Keys -- the United States' only living barrier reef -- or Australia. Living organisms, corals are made of polyps and algae that feed like plants, through photosynthesis. Coral reefs are also home to scores of other marine species that find sustenance and shelter there.
Estuaries
Estuaries are where the freshwater rivers meet the saltwater ocean, creating crucial habitats that support a variety of plants and animals and serve as nurseries for many species commonly found in deeper waters once they reach adulthood. Common estuarian flora includes seaweeds, marsh grasses and, in the tropics, mangroves.