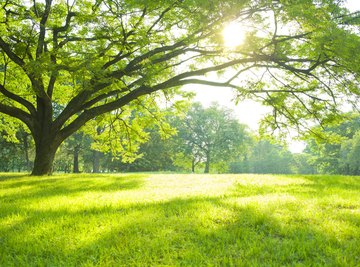 •••
wat/iStock/GettyImages
Vascular plants are plants that use specialized tissue for transporting food and water to different areas in the plant. Examples of vascular plants include trees, flowers, grasses and vines. Vascular plants have a root system, a shoot system and a vascular system.
Roots
Roots are simple tissues that are derived from the stem of the plant. Roots anchor the plant in the ground and transport minerals and water into the plant.
Xylem
The xylem is tissue that transports water throughout the plant. Xylem tissue is rigid and can be preserved in the fossil record. It can be found throughout the plant, in the roots, stem and leaves.
Phloem
The phloem is the plant's food transportation system. They bring minerals up through the roots and the byproducts of photosynthesis down to move them throughout the plant.
Leaves
There are two types of leaves for vascular plants: microphylls and megaphylls. Microphylls have one vascular strand where all the vascular tissue runs parallel in the leaf. A blade of grass or a pine needle is an example of a microphyll. Megaphylls have branching vascular tissue within the leaf. The veins of a maple leaf are a good example of a megaphyll.
Growth
The primary growth of the plant occurs at the tips of the roots and the stems, lengthening the vascular system. Secondary growth thickens the stem and the roots, making them wider. Secondary phloem and xylem form as the plant widens.
About the Author
Corina Fiore is a writer and photographer living in suburban Philadelphia. She earned a B.S.Ed. in Earth-Space Science from West Chester University of Pennsylvania. Fiore taught high school science for 7 years and offered several teacher workshops to regarding education techniques. She worked as a staff writer for science texts and has been published in Praxis review materials for beginning teachers.