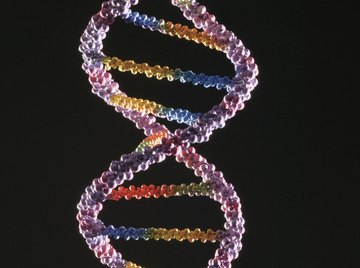 •••
Comstock/Stockbyte/Getty Images
Macro -- the prefix is derived from the Greek for "big," and macromolecules fit the description both in their size and biological importance. The four classes of macromolecules -- carbohydrates, proteins, lipids and nucleic acids -- are polymers, each composed of repeating smaller units joined together into larger functional molecules. These smaller units have chemical names, as do the macromolecules they form.
Carbohydrates
The most common building block of carbohydrates is the simple sugar glucose. Different configurations of glucose molecules produce the starch polymers amylose and amylopectin, as well as cellulose, the main macromolecule of which plants are made.
Proteins
Proteins are built from different combinations of 20 amino acids, including glycine, leucine and tryptophan. Each resulting protein has a different chemical name. Examples include keratin, the protein that makes up hair, and collagen, which makes up tendons.
Lipids
Lipid polymers, more commonly known as fats, are made of fatty acids joined together by glycerol. As this glycerol joins three fatty acid "chains," the resulting lipid is called a triglyceride.
Nucleic Acids
DNA, or deoxyribonucleic acid, may be the best known macromolecule. RNA, or ribonucleic acid, is another member of this class. Both types are made of nucleotide subunits, each of which contains a phosphate group, a monosaccharide, and a base such as adenine or thymine.
About the Author
Daniel Walton is a Cincinnati-based science writer whose articles have appeared on the blog Sword of Science and the Internet science hub Real Clear Science. He holds a Master of Science in crop science from the University of Illinois and grows a substantial vegetable garden in his backyard.
Photo Credits
Comstock/Stockbyte/Getty Images