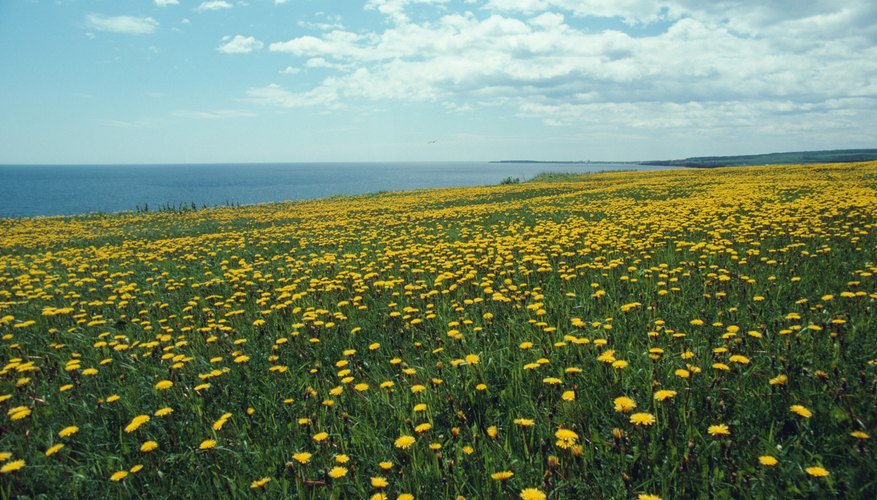 Prairie biomes are areas of flat and gently sloping or sometimes hilly land. They are covered by tall grass, and American pioneers who first saw them called prairies a 'sea of grass.' Not many trees grow in a prairie biome, and prairies grow in areas where not much rain falls. Prairies can also be called grasslands, and they are one of four main types of biomes. Other types are forest, desert shrub and tundra.
What Lives in a Prairie Biome
Prairies are home to many plants and animals. They are vital to the survival of these plants and animals growing and living in the grassland. If you explore a prairie, you will find a great array of birds, mammals, amphibians, reptiles and insects living in the area. You might find rabbits, red foxes, deer, tiger salamanders, meadow voles, pocked gophers, pheasants, ducks and geese. You will also find grasses, fungi, flowers and special trees in a prairie biome. Native grasses that you can find in a prairie include big bluestem, Indian grass, switch grass, side oats gramma and cord grass.
Native Plants
The grass and flowers that you find in a prairie are native, which means that they originated here and have not been brought from another place. Many other grasslands have plants that were brought here from other countries. These introduced plants include brome grass, timothy grass and foxtail grasses. These plants are actually harmful to the native plants as they disturb the natural land. Prairie grasslands are unique because the plants that you find growing in them are native, and the land has not been disturbed. This makes the ecosystem in a prairie biome very healthy.
How Prairies Grow
Grass in prairies usually grows late in summertime. These grasses have deep roots and they like to grow clumped together. This makes the plants more resistant to drought and fire, which can be common problems in prairie biomes. While it may not look like it, prairies are shady at their ground level as the thick grass keeps the earth covered from the sun. In some prairies you will also find small lakes called 'prairie potholes.' This is where waterfowl together with other birds live.
Where Prairies Are
Prairie biomes grow on every continent in the world apart from Antarctica. Most prairies can be found between forest lands and desert shrub. In the United States of America, prairie biomes can be found in Kansas, Nebraska, Iowa, Oklahoma, South and North Dakota and Illinois as well as some parts of the states nearby these ones. In Canada, there are three 'Prairie Provinces' – Alberta, Manitoba and Saskatchewan.