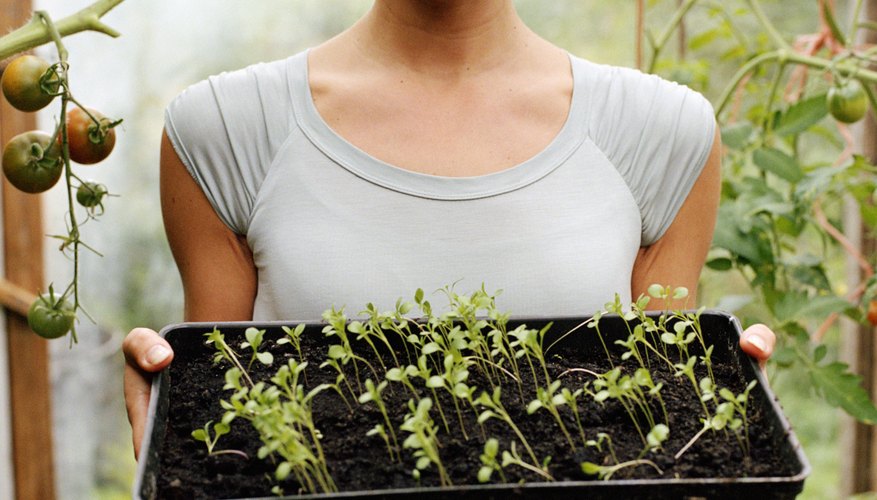 David Oldfield/Digital Vision/Getty Images
Chloroplasts are the original "green" solar power transformers. These tiny organelles, found only in the cells of plants and algae, use energy from the sun to convert carbon dioxide and water into glucose and oxygen. Dan Jenk, science writer for the Biodesign Institute at Arizona State University describes the process as follows, "…plants approach the pinnacle of stinginess by scavenging nearly every photon of available light energy to produce food."
Chemical Potential Energy
Energy that is stored within a molecular bond is called, "chemical potential energy." When a chemical bond is broken, such as when a starch molecule is eaten then broken down in the digestive system of an animal, energy is released. All organisms need energy to survive.
Photosynthesis
Photosynthesis converts light energy into chemical energy that is stored in the molecular bonds of glucose. This process takes place in chloroplasts. A plant uses the glucose molecules to create carbohydrates -- starch and cellulose -- and other nutrients that it needs to grow and reproduce. Photosynthesis thus makes it possible to convert light energy to a form of energy that can be used for food, by both the plant and the animals that eat the plant.
Photosynthesis can be represented by the following simplified equation: 6 CO2 (carbon dioxide) + 6 H2O (water) → C6H12O6 (glucose) + 6 O2 (oxygen)
Light-Dependent Reactions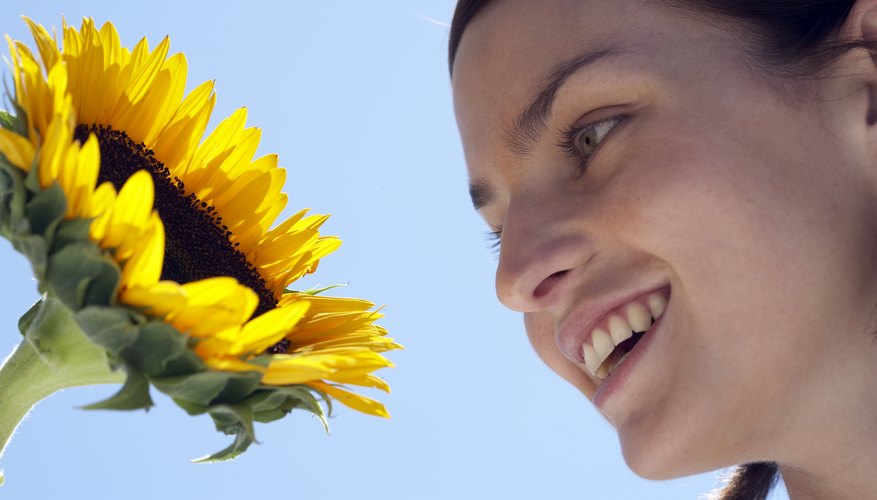 David Oldfield/Digital Vision/Getty Images
Photosynthesis occurs in two steps -- one light-dependent and one light-independent.
The light reactions of photosynthesis begin when light from the Sun hits a chloroplast. Chlorophyll, the green pigment inside a chloroplast, absorbs particles of light energy called photons. An absorbed photon initiates a sequence of chemical reactions that create two types of high energy compounds, ATP (adenosine triphosphate) and NADPH (nicotinamide adenine dinucleotide phosphate).
In addition to light energy, the light reactions also require water. During photosynthesis, water molecules are split into hydrogen ions and oxygen. The hydrogen is consumed by the reaction, and leftover oxygen atoms are released from the chloroplast as oxygen gas (O2).
Light-Independent Reactions
The light-independent portion of photosynthesis is also known as the Calvin cycle. Using the molecules produced in the light-dependent reactions -- ATP for energy and NADPH for electrons -- the Calvin cycle uses a cyclical series of biochemical reactions to convert six molecules of carbon dioxide into a molecule of glucose.
Green Energy
The raw materials for photosynthesis are found naturally in the environment. Plants absorb carbon dioxide from the air, water from the soil, and light from the sun and convert them to oxygen and carbohydrates. This makes chloroplasts the world's most efficient consumers and producers of clean, renewable energy.