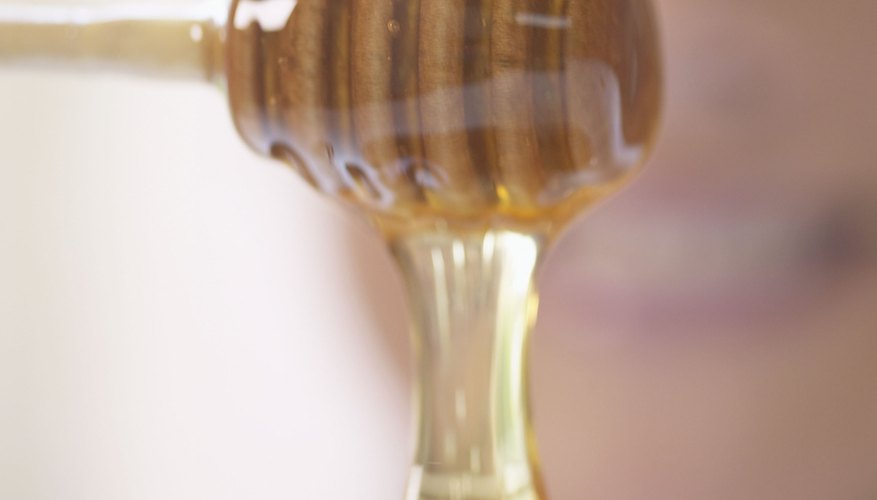 Chromatography is an experimental technique for separating a mixture of molecules by spreading them apart based on their molecular properties. Chromatography works because of these molecular properties, which include a molecule's stickiness, its size and its weight. Chromatography is widely used in biological and chemical research to separate and identify which molecules are in a mixture of molecules. These molecules can be naturally occurring things like proteins and fats, or synthetic drugs and chemical pollutants.
What Is Chromatography?
Chromatography is a useful way to separate different types of molecules that are in a mixture. The mixture of molecules is usually dissolved in a liquid, although chromatography can also be done on a mixture of gases. The liquid mixture is allowed to climb a surface, as water would soak across a dry sponge or a piece of paper towel. The molecules dissolved in the liquid also move across the surface, but different types will get stuck at different points. If the spongelike surface has small pores, larger molecules will get stuck sooner, while smaller molecules will travel farther up the surface.
Why Molecules Are Sticky
Chromatography works well for separating molecules because each type features a different degree of stickiness. Separating them depends on the type of stickiness that the molecules possess. Stickiness is based on intermolecular forces, or types of bonding. For chromatography to work, the type of stickiness that the molecules possess must match the type of stickiness of the sponge-like surface. Ionic bonding is the attraction of molecules with opposite electrical charges. Van der Waals interactions are the attraction of molecules made of chains of carbon atoms that carry hydrogen atoms with them.
Types of Chromatography
The principle of chromatography -- the separation of molecules on a physical surface based on their chemical properties -- can be applied in many ways. Liquid chromatography separates mixtures of molecules that are dissolved in a liquid. Gas chromatography separates mixtures of gases. One type of liquid chromatography uses a spongelike surface that can be a thin, flat surface across which the liquid will spread. Another type of liquid chromatography uses a narrow column through which the liquid is filtered as it flows down because of gravity.
Ways to Trap Molecules
The surface used to separate molecules in chromatography contains what can be considered many little "traps" that hold on to molecules as they pass by. The five types of surfaces that define liquid chromatography are partition surfaces, adsorption surfaces, size exclusion surfaces, ion exchange surfaces and affinity surfaces. Which type of surface is chosen depends on the chemical properties of the molecules in the liquid mixture. The general way these surfaces work is to trap molecules based on their size, their electrical charges or their stickiness based on some type of intermolecular bonding that the molecules share with the surface.