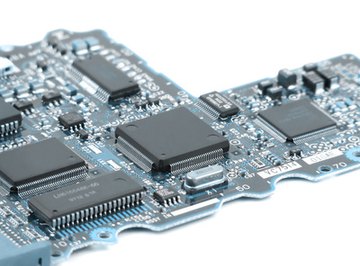 •••
computer circuit board image by glamoroso from Fotolia.com
Circuit breakers are designed to be a safety feature in an electrical system. When a short circuit or overload condition develops, the breaker "trips," disabling the circuit. Most circuit breakers are housed in the main electrical panel, called the breaker panel or box. These boxes are manufactured by various companies. Unfortunately, companies are not willing to make their breakers interchangeable. For example, a Square D breaker will not fit into a Federal Pacific breaker box. Because of this fact, some aftermarket breaker manufacturers design breakers to fit each manufacturer's box.
Challenger Panels
For a panel manufactured by Challenger, the Connecticut Electric breakers will fit. These are types UBITBC and UBITBA . Also, the Cutler Hammer BR breakers will fit. As with all panels, the original equipment manufacturer's (OEM) breakers are designed to fit the panel.
Pushmatic
For the Pushmatic box, breakers from Pushmatic and Connecticut Electric will fit. The Connecticut Electric breakers are type UBIP.
Westinghouse / Bryant
Westinghouse/Bryant breakers will fit the panels. Cutler Hammer and Connecticut Electric breakers will also fit. The Cutler Hammer BR series are designed to fit, as are the Connecticut Electric UBITBC series.
Zinsco Panels
The Connecticut Electric Type UBIZ series of breakers will fit Zinsco panels. These breakers are available in a variety of amperages, and it is up to your electrician to determine which size breaker is needed for each branch circuit.
References
About the Author
Tony Oldhand has been technical writing since 1995. He has worked in the skilled trades and diversified into Human Services in 1998, working with the developmentally disabled. He is also heavily involved in auto restoration and in the do-it-yourself sector of craftsman trades. Oldhand has an associate degree in electronics and has studied management at the State University of New York.
Photo Credits
computer circuit board image by glamoroso from Fotolia.com