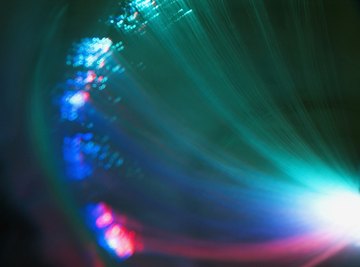 •••
Medioimages/Photodisc/Photodisc/Getty Images
Dealers and collectors who authenticate antique glass are grateful for the phenomenon that turns clear glass yellow under a long wave black ultraviolet light; it proves the glass was manufactured before 1915, when manganese -- the element that makes glass glow yellow -- was discontinued. This is a color variant on "Vaseline" glass, which glows green because of uranium salt compounds in its chemical makeup.
Other Reasons for the Glow
Manganese and uranium salts are not the only reasons for glass glowing yellow; flint glass, which actually has the leaden metal in it, will do so as well. Also, one needs to account for the variations in ultraviolet lights used for testing, and their degrees of fluorescence. Light may be absorbed at one fluorescent wavelength, then emitted at another, lower energy wavelength along the ROYGBIV, or visible light, spectrum. Manganese, lead, uranium salt or variable wavelengths are all factors that can produce a yellow glow in clear glass.
References
About the Author
Michael Stratford is a National Board-certified and Single Subject Credentialed teacher with a Master of Science in educational rehabilitation (University of Montana, 1995). He has taught English at the 6-12 level for more than 20 years. He has written extensively in literary criticism, student writing syllabi and numerous classroom educational paradigms.
Photo Credits
Medioimages/Photodisc/Photodisc/Getty Images