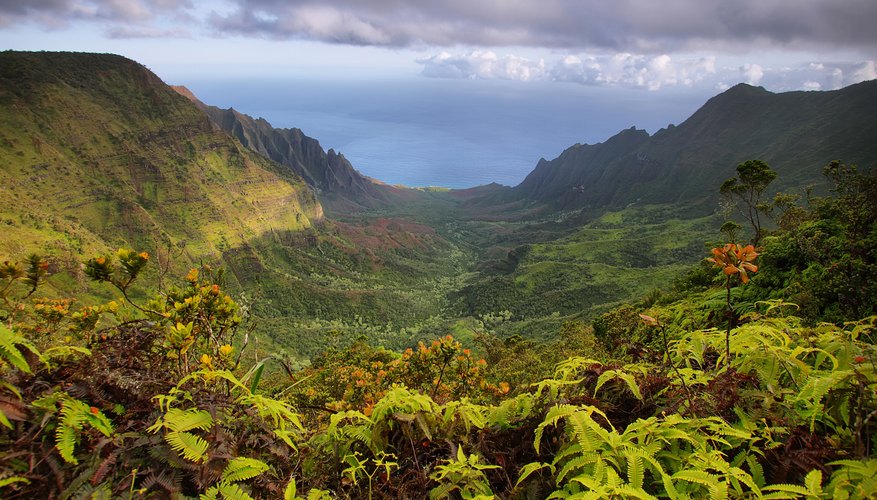 The Jurassic is perhaps the most famous period in geologic history. It is the "Age of Dinosaurs," which has sparked the interest and imaginations of paleontologists, geologists and children alike. The Earth during the Jurassic period became a hospitable place for a wide diversity of plants and animals, and tropical to sub-tropical conditions were the norm over much of the planet's dry land.
The Jurassic Period
The Jurassic period, roughly 146 to 200 million years ago, encompassed the middle portion of the Mesozoic era. It is well known for the huge dinosaurs that roamed the earth, particularly during the Late Jurassic. In contrast to the hot and dry conditions of the previous Triassic period, a warm and moist climate created conditions conducive for plants and animals to blossom and flourish.
Tectonics
Continental drift during the Jurassic greatly impacted the climate. The supercontinent Pangaea split and split again, creating more land masses and thus more coastlines. The separation of continents increased underwater volcanic activity, which caused the oceans to widen and high mountain ranges to rise from the ocean floor. This, in turn, raised sea levels. The rising sea levels flooded coastlines and fed huge inland seas. All of this extra water on land surfaces increased humidity levels. The higher humidity and rainfall made conditions conducive for plant growth, which in turn increased humidity levels even more. These factors combined to shift the climate from the warm and arid Triassic to a warm and humid Jurassic.
Jurassic Climate
The Jurassic period is known for a climate characterized by rain-forest-like conditions. Peat bogs that later formed into massive coal deposits existed throughout many parts of the Earth, forming under dense forests. Most of the land is believed to have been productive for plant and animal growth and diversity. Sea levels rose and created warm, shallow-coast environments conducive to coral reef development. The Triassic warmth continued into the Jurassic, but the increased humidity levels due to flooded landmasses, as well as increased carbon dioxide levels from the lush vegetation and lack of polar ice, created a "greenhouse" climate. Even the polar regions had a temperate climate.
Flora and Fauna
The Jurassic became the era of the huge dinosaurs, up to 120 feet in length, and the whole planet teemed with plant and animal life. An abundance of large land and sea plants fed large prey animals, which in turn resulted in well-fed and ever-larger predators. The climate was not only hospitable to land dinosaurs, but it also aided in the development of giant sea- and ocean-dwelling creatures like the giant marine crocodiles that thrived in warm Jurassic seas. By the Late Jurassic, every dinosaur known to exist roamed the earth. The first bird, Archaeopteryx, arrived during the Jurassic, and soon many birds filled the skies. Flying dinosaurs like the large pterosaurs likewise competed for air space.