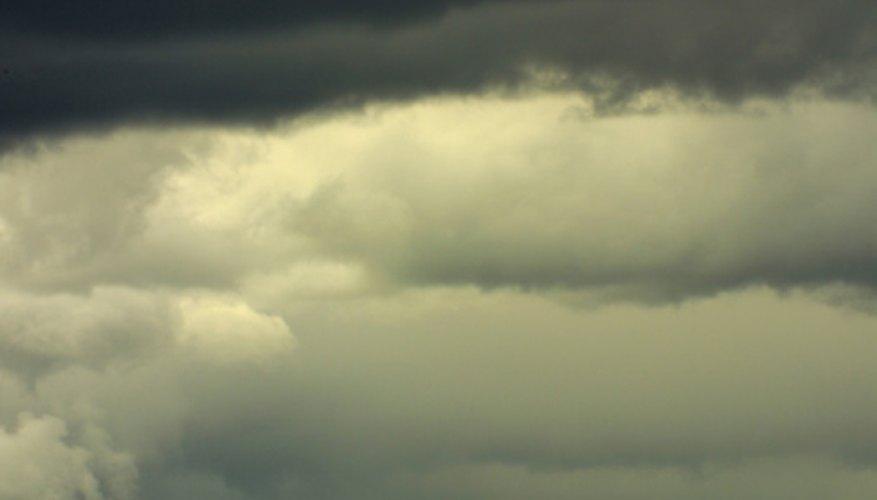 Hemera Technologies/AbleStock.com/Getty Images
A cold front is a meteorological phenomenon in which a mass of colder air moves into a region with warmer air, causing the warmer air to rise. The type of cloud most associated with this phenomenon is the cumulonimbus cloud that develops due to the convective currents formed by the rising air. Other types of clouds signal the approach and the recent passing of a cold front.
Cumulonimbus
Cumulonimbus clouds are the vertically developed clouds present in advancing cold fronts. They are responsible for producing thunderstorms with heavy rains, strong winds and lightning. Cumulonimbus clouds can be isolated or form a line of towers called a squall line. They are usually located at elevations of 39,000 feet and higher.
Cumulonimbus clouds are common in cold fronts because of the strong updrafts formed when the cold front displaces the warmer air. An advancing cold front can turn fair weather cumulus clouds into large cumulonimbus formations known as supercells.
Cirrostratus
Cirrostratus clouds are sheet-like clouds found at very high altitudes. They are composed entirely of ice crystals. Although they are often several thousand feet in thickness, they are generally transparent enough that you can see the sun through them. Cirrostratus clouds tend to increase in number immediately before a cold front advances, but they disperse as the front passes through the area.
Cirrus
Cirrus clouds also tend to appear in the sky in advance of a cold front. Like cirrostratus clouds, they are composed entirely of ice crystals and are very thin and wispy in appearance. Cirrus clouds are also associated with an approaching warm front; however, they are known to reliably predict a rapid change in weather.
Fair Weather Cumulus
Cumulus clouds appear both immediately before and immediately after a cold front. A cold front passing through an area can develop into the distinctive cumulonimbus clouds that dominate a cold front. Additionally, fair weather cumulus clouds often remain after the front has passed through the region. They show much less vertical growth than cumulonimbus clouds, exhibiting a white, puffy cotton-like appearance.