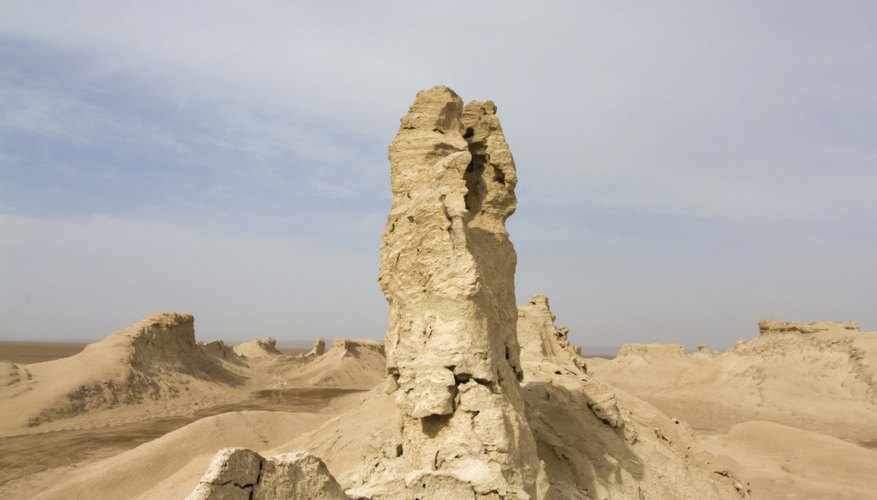 Cold deserts are temperate or polar regions with very little available moisture. Most experience less than 19 inches of annual precipitation, primarily in the form of snow or fog, but some experience periods of heavy rainfall. They're located at higher latitudes -- further from the equator -- than hot deserts and have long, cold winters and brief summers with elevated temperatures.
Why Dry?
Most cold deserts have very low atmospheric humidity year-round, which wicks moisture away from plants and animals. They tend to have shallow sandy, rocky or frozen soil that does not hold significant amounts of liquid water. Distance from moisture-laden coastal winds or proximity to tall, cloud-blocking mountains causes the low humidity. Cold desert plants and animals are physically and behaviorally adapted to conserve moisture.
Temperate Regions
Temperate cold deserts include Asia's Gobi, North America's Great Basin and South America's Atacama deserts. They also cover much of Iran, Turkestan, southwestern Africa and western China. Their plants include grasses, sagebrush, aloes, cacti, lichens and drought-resistant shrubs and trees like greasewood, saxaul, pistachio, tamaruga and camel's thorn. Temperate cold desert animals include many invertebrates, such as beetles, ants, spiders, scorpions, solpugids and centipedes; several types of lizard and snake, especially monitors, geckos, vipers and pit vipers; tortoises; flightless and flighted birds; and mammals from camels and llamas to jerboas and hedgehogs.
Arid Tundra
The tundra has groundwater, but it's tied up in permafrost -- soil several feet deep that never thaws -- located below a few inches of topsoil. It's extremely cold and dry most of the year with very brief summers. Tundra plants have shallow roots and many reproduce by breaking off pieces that grow new roots. Tundra plants include many types of lichen, moss and liverwort; some grasses, sedges and flowering herbs; and a few trees, primarily conifer shrubs. Tundra animals include fast-growing, swarming insects, such as mosquitoes that reproduce without standing water, grasshoppers and flies. Mammals consist of small, quickly reproducing herbivores, such as lemmings, voles and hares; migratory herds of large, grazing herbivores, such as caribou and musk ox; and the predators who feed on both, such as foxes and wolves. Tundra birds are migratory and reptiles are largely absent.
Polar Deserts
The northern hemisphere's High Arctic and the southern hemisphere's Antarctic montane region are polar deserts. They have little soil and much exposed bedrock and spend up to ten months of the year in complete darkness. The Antarctic deserts are harshest. Their only liquid water is saltier than the ocean and the temperature never rises above freezing. Many extremophile microorganisms exist in this desert, but the only known plants are algae and lichen and the largest permanent animal resident is a nematode worm that eats bacteria and spends much of its time in a freeze-dried condition. A few birds, including emperor and adelie penguins, several fulmar and petrel species, skua and one type of pigeon migrate into these areas to breed. The northern polar deserts also lack most organisms larger than algae, lichens, fungi and bacteria, but are home to hibernating polar bears, who travel to the coastal regions to feed on seals.