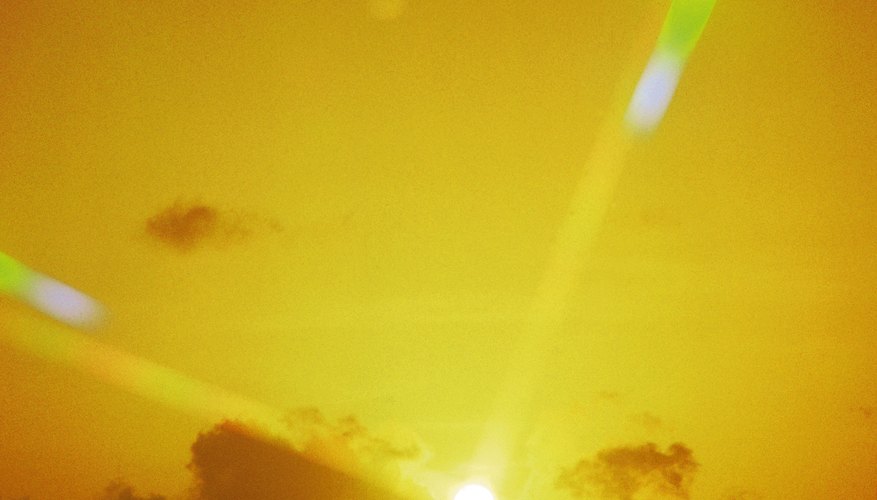 Solar energy is a simple concept to understand because it can be felt by the amount of heat in a particular area. The sun transmits energy to the earth via rays, with most of the energy being absorbed by the earth and the rest being reflected back into the atmosphere. Some materials are better at absorbing the sun's energy than others. For example, it's usually cooler in the forest than in the desert because the forest's plants absorb most of the sun's energy while the desert sand reflects the energy back up.
Water
All water absorbs a lot of energy from the sun, with the amount absorbed directly dependent on how large the body of water is. For example, an ocean will absorb more energy than a lake. Water releases the energy back into the atmosphere very slowly. This is why when you go to the beach, temperatures are generally a few degrees cooler than they are further inland, as the water is taking in much of the heat.
Spirulina
Spirulina, an algae which can be found in open sources of warm, fresh water, absorbs energy from the sun. Called the "sun food," spirulina contains phycocyanin which helps the plant absorb the entire light spectrum, enabling it to absorb more sun energy than other plants. It is often used as a dietary supplement as it stimulates red blood cell production and can also protect cells against aging.
Concrete
Concrete absorbs solar energy well, which is why sidewalks tend to get so hot under direct sunlight. This is also one reason why concrete is not a popular building material for homes or office spaces. Painting concrete can make a slight change in solar energy absorption. For example, white paint will deflect more light while black paint will absorb more. However, the difference is quite minimal, particularly if the concrete is in direct sunlight.
Dark Surfaces
Darker colors tend to absorb more energy from the sun than objects with lighter colors. This is why someone wearing a white T-shirt in the summer will find that he is cooler than someone wearing a black or dark-colored shirt. Other dark surfaces would include blacktops, paved roads or rooftops. This is true of all materials which have dark colors.
Metal
Most metals absorb solar energy rather well, as anyone who has touched a car sitting outside in the sun for some time should know, although you may notice that a white car is a tad cooler to the touch than a black car thanks to the lighter color. Copper and stainless steel are often used when building objects that are meant to retain the sun's energy, like greenhouses or solar panels.