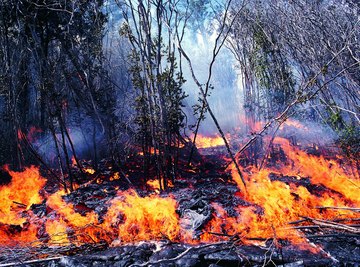 •••
Stockbyte/Stockbyte/Getty Images
Each particle on this Earth exists in some or the other state of energy. While reading this, your body is producing heat. This is also a form of energy. Energy is of different types like mechanical energy, kinetic energy and sound energy. One such type of energy is chemical energy. Chemical energy is obtained by rearrangement of molecules and atoms of any substance.
Wood
Wood is an easily available source of chemical energy. Since ancient times, wood has been burnt to give out heat and energy. The wood decomposes to produce chemical energy.
Coal
The most basic source of chemical energy is coal. Coal is formed when excessive heat and pressure under the Earth surface act upon rocks for millions of years. Coal is burned to obtain chemical energy.
Gasoline
The gasoline that we use in cars is also a source of chemical energy. The gasoline is burned in the combustion chamber of the engine to produce chemical energy.
Photosynthesis
Photosynthesis is the process by which plants convert the sun energy they receive into chemical energy. It involves chemical reactions in which the sun energy is trapped by the plant molecule and then changed into chemical energy to be used in the form of glucose for consumption.
Electrolysis
Electrolysis is the process where an electrolyte (a substance undergoing electrolysis) is decomposed using electricity to produce different products. The electric energy passed through the electrolyte is converted into chemical energy through different chemical reactions.
References
About the Author
This article was written by the CareerTrend team, copy edited and fact checked through a multi-point auditing system, in efforts to ensure our readers only receive the best information. To submit your questions or ideas, or to simply learn more about CareerTrend, contact us [here](http://careertrend.com/about-us).
Photo Credits
Stockbyte/Stockbyte/Getty Images