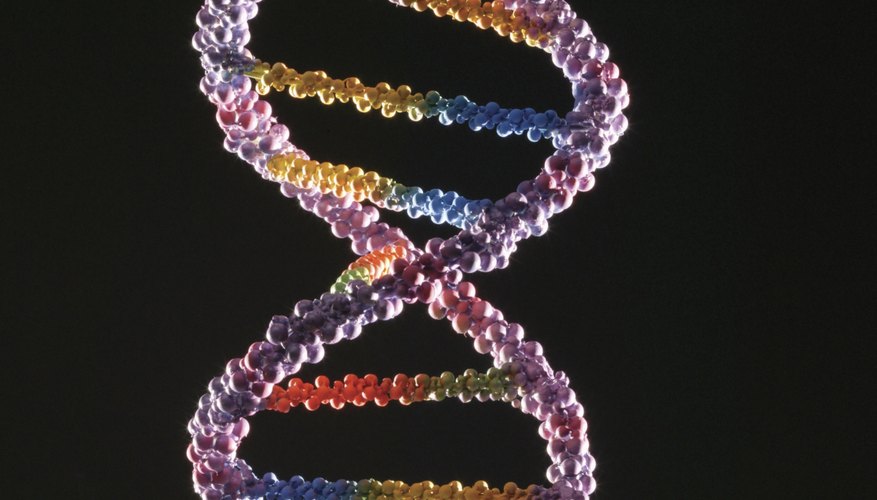 Genetic information is the basis for transferring traits from generation to generation. Living organisms use one of two molecule types for the transfer of genetic information. Deoxyribonucleic acid has a variety of functions within cells, as well as being used to carry genetic information in some viruses. Both DNA and RNA also have a variety of other functions within living creatures, including the generation of proteins within cells.
Structure of DNA
DNA is a polymer, which means it consists of many individual repeating molecular units. Each unit within DNA is called a nucleotide and consists of a 5-carbon sugar (deoxyribose), a nitrogen-containing molecule (also known as a base) and a phosphate group. Four different types of nucleotides exist and the only difference between these is the type of base attached to the sugar. DNA usually forms a double-stranded molecule. Each of the individual strands consists of a polynucleotide chain, and the two chains are linked by weak molecular bonds. The two strands wind around each other forming a twisted structure known as a double-helix.
Function of DNA
DNA is arguably the most important molecule within a biological organism. It is found within the nucleus of cells and is responsible for carrying the genetic code. DNA also controls the production of proteins within a cell. These biologically important molecules consist of chains of amino acids and are responsible for a vast number of functional activities within an organism. In DNA, a sequence of three bases corresponds to the production of an amino acid. Since a chain of amino acids is a protein, each segment of DNA, or "gene" is responsible for creation of a particular type of protein.
Structure of RNA
RNA is also a polymer but its constituent molecular building-blocks differ from that of DNA. RNA building blocks consists of a 5-carbon sugar (ribose as opposed to deoxyribose), a nitrogen containing molecule (also known as a base), a phosphate group, and a hydroxyl group. Hence the structural differences between DNA and RNA building blocks are due to the sugar and hydroxyl group. Unlike DNA, RNA is normally single chained. The chain folds in on itself producing a unique three-dimensional shape that depends on its sequence of bases.
Function of RNA
RNA has a number of essential functions within cells. During protein synthesis, the base sequences within DNA are transcribed onto single strands of RNA known as messenger RNA (mRNA). After transcription, these single strands of mRNA move to structures within the cell known as ribosomes. Within these structures another type of RNA, known as ribosomal RNA (rRNA), carries out protein synthesis by combining amino acids. Transfer RNA (tRNA) transports amino acids from various parts of the cell to the ribosomes and hence also aids in protein synthesis. Several other types of functional RNA, such as micro-RNA, play roles that are only now beginning to be understood, such as defense against viruses.