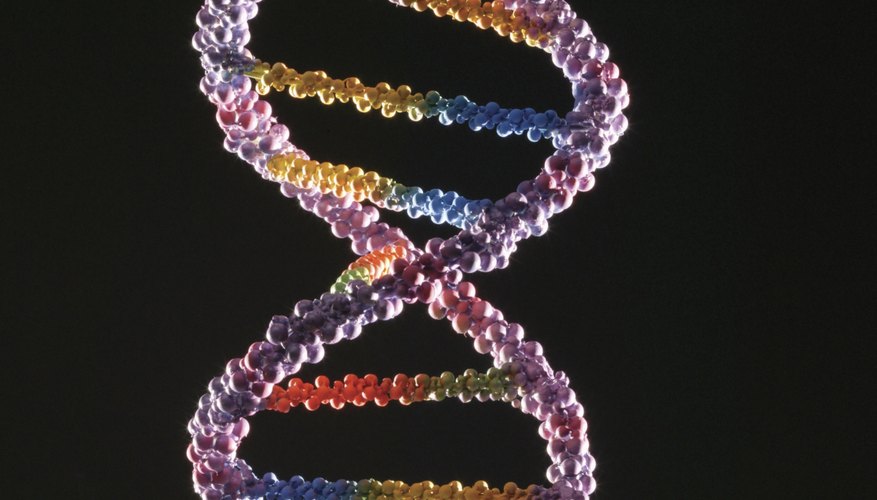 Comstock/Comstock/Getty Images
Many people find the concept of DNA vs. RNA confusing. After all, both terms sound a lot alike, and both are made of nucleic acid, one of the three macromolecules essential for human life. However, when you compare DNA and RNA, the differences between the two types of nucleic acid become clear.
TL;DR (Too Long; Didn't Read)
TL;DR (Too Long; Didn't Read)
DNA is double stranded while RNA exists in single strands. DNA contains the sugar deoxyribose in its backbone, whereas RNA contains ribose, which has one more oxygen atom. Both nucleic acids contain three bases: adenine, guanine and cytosine. However, RNA contains uracil as its fourth base, while DNA contains thymine.
Structure of DNA vs. RNA
The ubiquitous image of the DNA double helix is the best place to start when you compare and contrast DNA and RNA. This double-stranded molecule contains the four bases adenine, guanine, cytosine and thymine, plus a backbone formed from the sugar deoxyribose and phosphate. RNA, on the other hand, is single stranded and uses the sugar ribose in its backbone, which contains one more oxygen atom than deoxyribose. When it comes to chemical bases, RNA substitutes the base uracil for thymine.
DNA vs. RNA in the Central Dogma
The "central dogma of molecular biology" describes how the cell uses the genetic information encoded in DNA to build the proteins the body relies on for structure, function and regulation. This tenet also highlights how the difference between DNA and RNA enables protein building.
During transcription, the DNA double helix unzips inside the nucleus so the cell can produce a single-stranded transcript using the template strand of the DNA. This transcript is messenger RNA, or mRNA, and is the mirror image of the DNA strand used to make it. This means the mRNA exactly matches the coding strand of the DNA with uracil substituted for every thymine. The mRNA travels from the nucleus into the cytoplasm, where the ribosome reads it and converts each three-base codon into a single amino acid. Ultimately, chains of amino acids called polypeptides form as the ribosome reads the entire mRNA strand. This then folds into a protein.
When you look at DNA and RNA through the lens of the central dogma, the differences between the two types of nucleic acid make sense. In fact, without the differences between DNA and RNA, the cells would not be able to complete transcription and translation in order to make proteins, which are the building blocks of the human life.