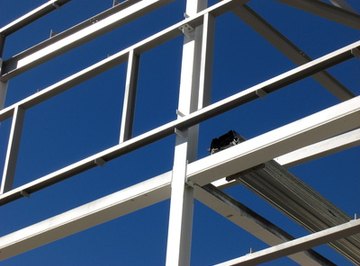 Microllam brand laminated veneer lumber (LVL) is constructed from thin layers of wood veneer glued together. It is similar in construction to plywood, but the wood grain runs parallel in all the layers of veneer.
Microllam
Microllam is typically milled in planks 1¼ inches wide, making it a good choice for beams spanning up to 16 feet. Widths between 3½ inches and 5½ inches are also available and depths range up to 20 inches.
Steel
Steel beams are much stronger than Microllam and other engineered wood beams of the same dimensions. Rolled or extruded steel I-beams – whose cross section resembles an uppercase letter "I" – are typically used in residential applications; they are available in widths and depths between 4 inches and 10 inches and standard lengths of 20 feet and 40 feet.
Considerations
One of the disadvantages of Microllam is that it is not pressure-treated, so it cannot be used for exterior beams. Microllam is, however, much lighter than steel – a 20-foot, 8-inch by 4-inch steel I-beam can weigh 300 lbs. – and much less expensive.
References
"Renovation"; Michael W. Litchfield; 2005
"Audel Complete Building Construction"; Mark Richard Miller, Rex Miller, Eugene Leger; 2005
About the Author
A full-time writer since 2006, David Dunning is a professional freelancer specializing in creative non-fiction. His work has appeared in "Golf Monthly," "Celtic Heritage," "Best of British" and numerous other magazines, as well as in the book "Defining Moments in History." Dunning has a Master of Science in computer science from the University of Kent.
Photo Credits