H
Periodic Table
He
Li
Be
of the Elements
B
C
N
O
F
Ne
Na
Mg
mouse/touch for more information
Al
Si
P
S
Cl
Ar
K
Ca
Sc
Ti
V
Cr
Mn
Fe
Co
Ni
Cu
Zn
Ga
Ge
As
Se
Br
Kr
Rb
Sr
Y
Zr
Nb
Mo
Tc
Ru
Rh
Pd
Ag
Cd
In
Sn
Sb
Te
I
Xe
Cs
Ba
Hf
Ta
W
Re
Os
Ir
Pt
Au
Hg
Ti
Pb
Bi
Po
At
Rn
Fr
Ra
Rf
Db
Sg
Bh
Hs
Mt
Ds
Rg
Cn
Uut
Uuq
UuP
Lv
Uus
Uuo
La
Ce
Pr

59

Praseodymium

140.90765

Nd
Pm
Sm
Eu
Gd
Tb
Dy
Ho
Er
Tm
Yb
Lu
Ac
Th
Pa
U
Np
Pu
Am
Cm
Bk
Cf
Es
Fm
Md
No
Lr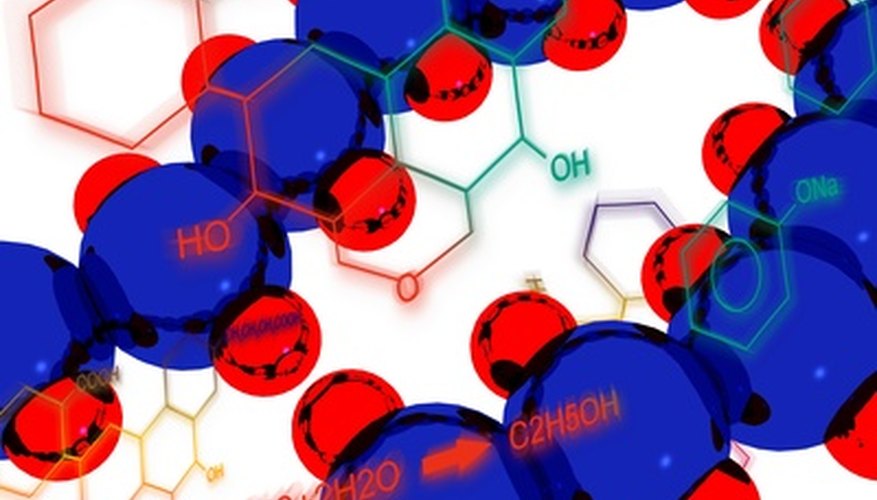 Students of chemistry everywhere are often asked to complete and balance chemical reactions. To complete a chemical reaction, you must fill in the products of the reaction by looking at what the reactants are. This requires you to tap into your knowledge of what kinds of reactions occur and how the different elements behave. However, with a periodic table at hand and some basic math, it is not as difficult a task as it may seem.
Determine what kind of a reaction is taking place by looking at the reactants. This will require some knowledge of common reaction types. If there is a single reactant, it is a decomposition reaction. Go on to step 2. If there are two or more reactants that will join in a composition reaction, skip to step 3. If there is oxygen and a hydrocarbon reactant, skip to step 4. If the reactants are two ionic compounds that will react by double replacement, skip to step 5. If the reactants are a reactive metal or halogen and a compound with a less reactive metal or halogen, skip to step 6 for a single replacement reaction.
Write the products as the individual components of the reactant compound. These may be elements, or smaller compounds. Use your knowledge of which elements are found as diatomic molecules to fill in the correct chemical formulas, and you have completed the reaction. For example, water (H2O) decomposes into hydrogen and oxygen gas (H2 and O2).
Write the product as a combination of the elements or compounds found in the reactants. For example, hydrogen (H) and nitrogen (N) combines to HN. Skip to step 7.
Write the products as water (H2O) and carbon dioxide (CO2), and you have completed the reaction.
Write the products as the compounds in the reactants with the anions, the second of the two ions that make up each compound, reversed. For example, AlCl3 and NaOH react to form AlOH and NaCl. Skip to step 7.
Write the products as the compound in the reactants with the metal or halogen component swapped with the metal or halogen that was on its own. For example, CaBr2 and Cl react to form CaCl and Br. Go on to step 7.
Figure out the typical oxidation/reduction states of the reactant elements. This is normally a property of which family, or column of the periodic table, the element is in. For example, elements in the nitrogen family typically accept three electrons, while elements in the first--alkaline--family typically give up one electron. You can often determine this by looking at the compound the element starts in. For example, in AlCl3, the aluminum (Al) must give up three electrons, because it is bonded to three chlorine atoms (Cl), each of which only takes one electron. Some periodic tables list this information as well.
Work out the correct number of each atom or ion to put in the product compounds using the number of electrons it typically give/takes, as determined in step 7. For example, in AlOH, aluminum typically gives up three electrons while hydroxide (OH) typically takes one, so the formula should be Al(OH)3. Calcium typically gives up two electrons while chlorine typically takes one, so calcium chloride is CaCl2. For single elements, simply determine which come as diatomic molecules and which do not. With this step finished, the reaction is completed.
Warning
This is not an exact method. If you are not simply completing homework problems, it may be beneficial to confirm your formula with a reference.