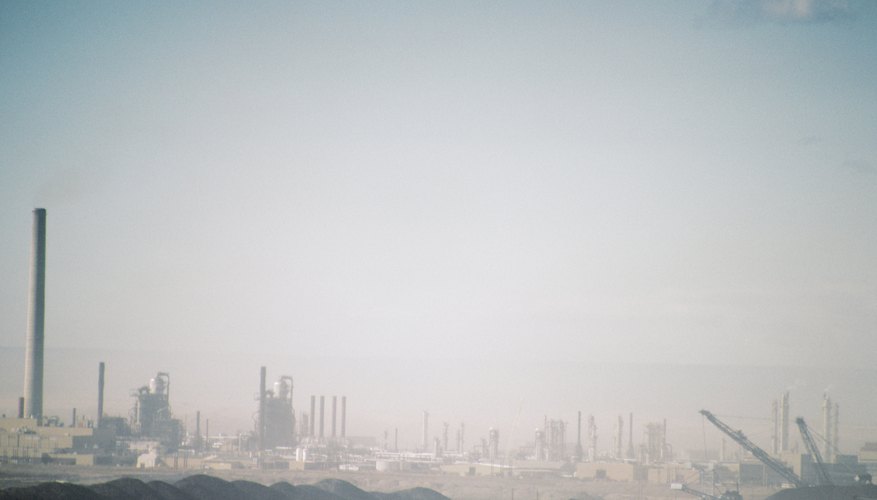 Several sources contribute to air pollution, including factory effluent, automobile exhaust, forest fires and things that you may use daily, like hair spray and house paint. Sometimes, the conditions are right and different types of air pollution combine to form smog. Smog, a yellow-brown cloud that reduces visibility, makes it hard for people with lung conditions to breathe.
Nitrogen Oxides
Nitrogen binds to oxygen in two different combinations. Both forms, nitrogen oxide and nitrogen dioxide, frequently form from the same processes and scientists refer to them jointly as NOx gases. Burning carbon-based fossil fuels produce these NOx gases in processes such as energy production and driving automobiles. The ratios and percent of NOx gases in smog determine the smog's color. Volcanoes, lightning and forest fires produce NOx gases naturally. These gases contribute to heart and lung problems, as well as cancer.
VOCs
Painting your walls, especially with oil-based paints, releases solvents that are used to keep the paint fluid. These solvents, known as volatile organic compounds, or VOCs, come mainly from human-caused activities, but evergreen trees also release them and the VOCs contribute that pine-fresh evergreen scent. Under normal circumstances, these VOCs can affect your throat and lungs, which is why you should open your windows when painting. Outdoors, there is normally enough air exchange to prevent issues in pine forests, but smog can develop in forests when there are temperature inversions. Other sources of VOCs include evaporating gasoline and solvents that escape without combustion in manufacturing processes. There are hundreds of different VOCs in the atmosphere. VOCs also contribute to the smog's color, adding a blue to brown tinge to the cloud. VOCs make smog more irritating to your eyes, lungs and throat.
Peroxyacetyl Nitrates
When nitrous oxide combines with VOCs -- excluding methane -- they form a third component of smog: peroxyacetyl nitrates, or PAN. PAN makes smog more irritating to your eyes and lungs and can damage the protein molecules that your body is composed of. This component of smog was very difficult to isolate because it becomes explosive during purification. PAN takes a long time to break down and is stable in colder temperatures like those found in the upper atmosphere.
Ozone
When sunlight strikes nitrogen dioxide it breaks the molecule down and releases ozone, or O3. The form of oxygen our bodies use is the commonly occurring dioxygen, or O2. Ozone is an important component of the stratosphere, the upper atmospheric layer, helping to protect the living creatures on Earth from solar ultraviolet radiation. Closer to the Earth's surface, ozone is poisonous, causing serious respiratory problems and eye irritation, as well as having a sharp unpleasant smell. Ozone is reactive with many metals and breaks down rubber and plastics. It also impairs the growth of plants.