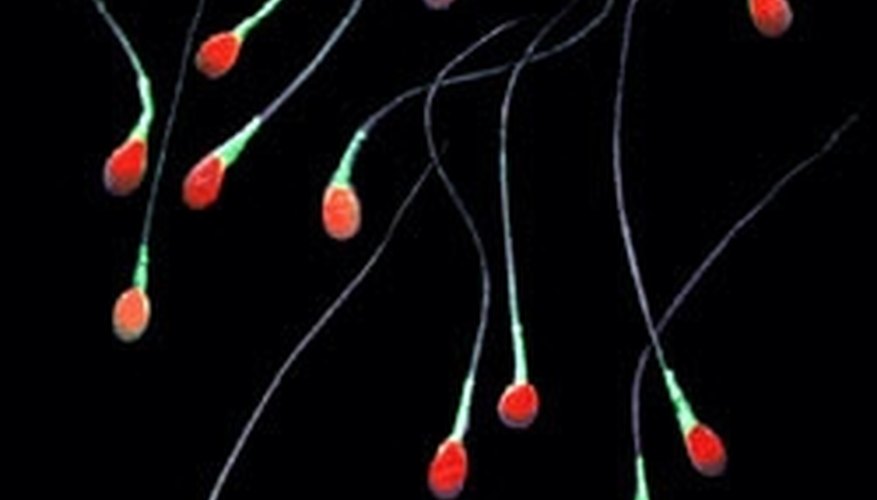 CC 2.0 BY: SantaRosa_OLD_SKOOL: Flikr.com, Public domain: Wikicommons.com
All human beings began from the combination of an egg and a sperm cell. As gametes, sperm have a design unlike other cells in the body. The components of sperm enable it to fulfill its purpose of fertilizing a woman's egg. Only males create sperm in their bodies. Sperm fight each other as they swim toward the egg, but only one can enter the ovum and grow into a human being.
Function
Sperm exist to unite one half of the man's DNA with one half of the woman's. Since it only has a half set of DNA, sperm cells are referred to as haploid, meaning half. These DNA halves combine when the sperm fertilizes a female ova (egg). This creates a complete set of DNA in the fertilized egg, which grows into a human fetus.
Parts
Sperm cells have a simple construction with three separate parts: the head, middle and tail. The head of the sperm contains half of the man's DNA. To enter the egg, the head of the sperm has a tip designed for penetration known as the acrosome. Energy used by the sperm to propel itself has its origin in the mitochondria wrapped around the center portion of the sperm. The mitochondria uses a simple sugar (fructose) ejaculated in the semen with the sperm to produce energy for the sperm's movement.
Sperm Production
At birth every male has enough spermatogonia cells to last his lifetime. When puberty comes and the testes begin to produce testosterone, they also stimulate the spermatogonia to mature into primary spermatocytes. These spermatocytes have twice the number of chromosomes the sperm will have. Each spermocyte divides itself into two more secondary spermocyte cells, with the same chromosome number, through meiosis. A second phase of meiosis creates four spermatids from the original single speratogonia cell. The spermatids have a half set of chromosomes of spermocytes: 23 compared to 46 in spermocytes. Each of the four spermatids grows a tail and head to become a fully mature sperm cell.
Location
The testes in the male produce sperm. It takes 72 days for each one to grow, but sperm require conditions 3 to 5 degrees F cooler than normal body temperature. Low sperm count can result from the testes being at body temperature. For optimal production, the testes remain away from the body's heat.
Movement
The tail of the sperm uses energy produced through the mitochondria's metabolism of sugar to whip back and forth. Sperm only move a mere .12 inches (3 mm) per hour. Over 1,000 movements of the tail propel the sperm cell forward ½ an inch, but the sperm requires thousands of movements of its tail to allow it to reach the woman's egg inside her (1.25 cm).