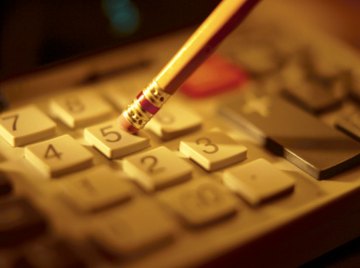 •••
Hemera Technologies/Photos.com/Getty Images
Percentages represent ratios as being out of 100. For example, 10 percent represents 10 out of every 100. You can calculate a percentage by dividing the number of desired results out of the number of total results, and multiplying the result by 100. When you have a decimal, you can convert it to a percentage just by multiplying by 100, which results in moving the decimal two places to the right.
Multiply the decimal 0.06 by 100 to get 6 percent.

Divide the decimal 0.06 by 0.01 to confirm your answer of 6 percent.

Check your answer with an online decimal-to-percent calculator. Enter 0.06 and push convert and the converter will display an answer of 6 percent.
References
About the Author
Mark Kennan is a writer based in the Kansas City area, specializing in personal finance and business topics. He has been writing since 2009 and has been published by "Quicken," "TurboTax," and "The Motley Fool."
Photo Credits
Hemera Technologies/Photos.com/Getty Images