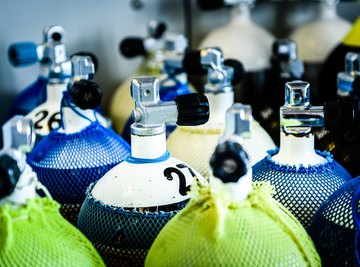 •••
_jure/iStock/GettyImages
CCF is shorthand for 100 cubic feet, usually referring to either the volume of water or of natural gas. MMBTU is 1 million BTUs, which are British thermal units and are a measurement of energy. The measurement of cubic feet of natural gas can be converted into BTU representation. Converting from CCF of natural gas to MMBTUs is the same as converting from cubic feet to BTUs, with a few added calculations.
Multiply the number of CCF by 100 to obtain the amount of natural gas in cubic feet. For example, if the amount of natural gas is 15 CCF, then multiply by 100 to obtain the amount in cubic feet, which is 1,500 cubic feet.

Multiply that number by 1,027, which is the conversion constant from cubic feet to BTUs. For the example, 1,500 multiplied by 1,027 equals 1,540,500 BTUs.

Divide that number by 1 million to obtain the number of MMBTUs. For the example, 1,540,500 divided by 1,000,000 equals 1.540500, or approximately 1.55 MMBTUs.
About the Author
Chance E. Gartneer began writing professionally in 2008 working in conjunction with FEMA. He has the unofficial record for the most undergraduate hours at the University of Texas at Austin. When not working on his children's book masterpiece, he writes educational pieces focusing on early mathematics and ESL topics.