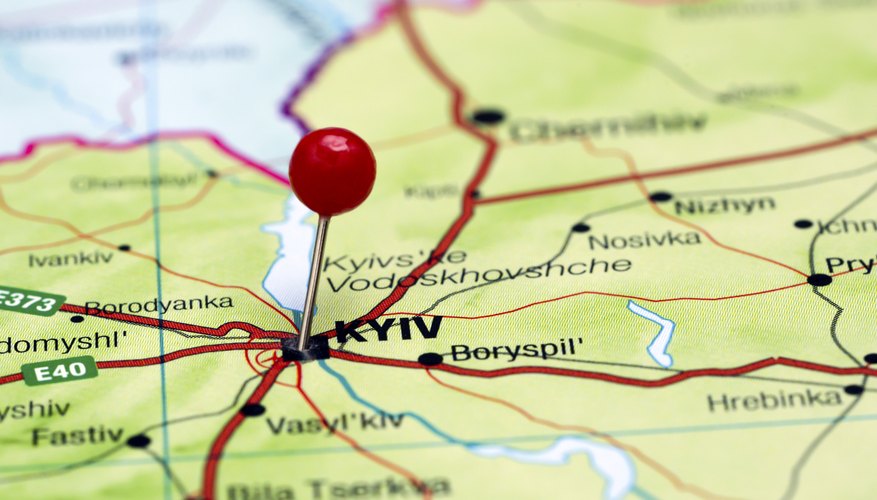 dk_photos/iStock/Getty Images
Eastings and northings are measurements used to locate a point on a map using simple decimal numbers instead of latitude and longitude. They are also called projected coordinates because the numbers locate the point within a coordinate projection system, a method of representing the spherical Earth on a flat surface. The most familiar projection is the Universal Transverse Mercator system, or UTM, which appears on many maps and GPS devices. Since converting easting and northing to latitude and longitude requires complex mathematics, many sites on the internet offer calculators to do the work.
Determine easting and northing values from a map, GPS device, or other source. Both measurements are large positive numbers -- generally more than 100,000 -- and the units are meters.
Determine the UTM zone. The zone, a number between one and sixty, is printed on a map or included with any stated easting and northing values. The UTM zone is a band six degrees of longitude in width. Without a zone specification, conversion cannot be performed.
Determine whether the point is north or south of the equator.
Determine the datum used to calculate easting and northing, either NAD27 or NAD83. The datum is a mathematical representation of a spheroidal model of the Earth. The difference between locations calculated using the two datums is small, but may be significant in some situations. If the information is unavailable, use the coordinate calculator's default, NAD83. This datum is the more recent of the two and is used on GPS devices.
Submit the easting and northing values, zone number, datum and north-south information to the conversion calculator at the National Geodetic Survey website. Read the results in latitude and longitude.
Warning
UTM is only one of many projection systems. If the northing and easting values are from a different coordinate system, the output latitude-longitude will not be correct. The system in use is typically displayed in the map legend.