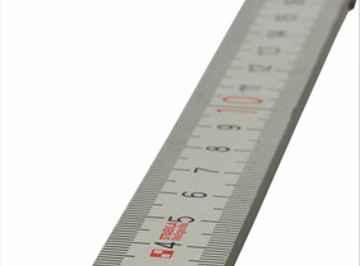 Though meters and feet both measure linear distance, understanding the relationship between the two measurement units can be a little confusing. Conversion between linear meters and linear feet is one of the most basic and common conversions between the metric and standard systems, and linear measurement refers to distances along a straight line. Learning the conversion constant to convert linear meters to feet aids in both calculation and comprehension.
Measure the linear length with the metric side of the tape measure. The metric side is the one that labels units in millimeters, centimeters and meters.

Write down the measurement in meters. In this example, the measurement is 12 meters.

Multiply the measurement in meters by 3.2808399, which is the conversion constant from meters to feet, on your calculator. In this example, 12 meters multiplied by 3.2808399 equals 39.3700787 feet.

Dual tape measure
Calculator
References
About the Author
Chance E. Gartneer began writing professionally in 2008 working in conjunction with FEMA. He has the unofficial record for the most undergraduate hours at the University of Texas at Austin. When not working on his children's book masterpiece, he writes educational pieces focusing on early mathematics and ESL topics.
Photo Credits