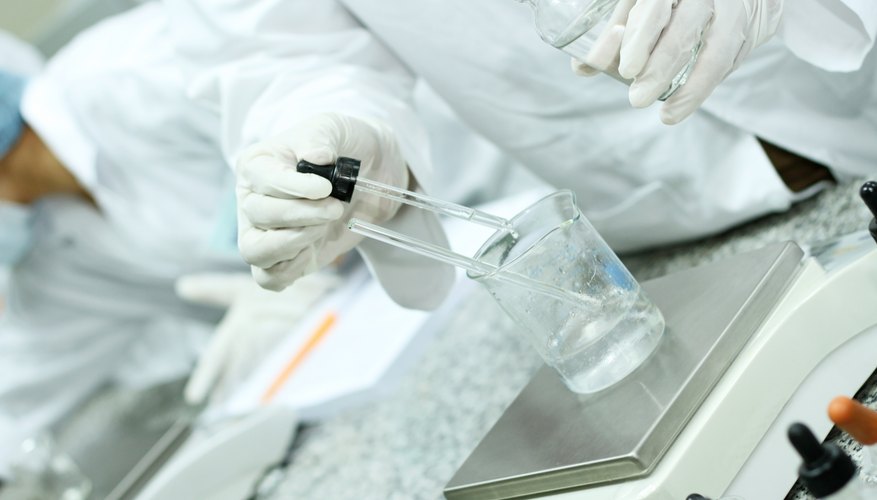 Understanding mass and mass calculations is vital to understanding scientific concepts. Mass is one of the core concepts that helps scientists theorize how the universe works. Without understanding mass, you will be unable to understand more complex concepts and theories. Calculating mass using liters can be difficult, because you are converting volume to weight.
Find the Density
To compete this calculation, you will need to know the density of the substance you are working with. For pure elements, you can find the density on the periodic table. For other substances and materials, there are a variety of tables that list density. You can find these in text books, scientific manuals and online. Density is mass per unit volume. The equation for density is: density = mass / volume.
Find the Mass
Since you are solving for mass in this calculation, you can manipulate the density equation to solve for mass. The equation you will use for this calculation is: mass = density * volume.
Convert From Liters to Kilograms
If you would like to measure the mass of two liters of milk, you would find the density of milk. The density of milk is 1.03 grams/cubic centimeter, according to a table provided by Georgia State University. Since you are converting from liters to kilograms, convert the density from grams/cubic centimeter to kilograms/cubic meter by multiplying the value by 1000.
This works out to: 1.03 * 1000 = 1030 kilograms/cubic meter
Then, convert liters to cubic meters using the equation: liters / 1000 = cubic meters.
This works out to: two liters/1000 = 0.002 cubic meters
Plug in the values for density and volume and solve for mass:
m = density * v m = 1030 kilograms/cubic meter * 0.002 cubic meters = 2.06 kilograms
So, two liters of milk has a mass of 2.06 kg.