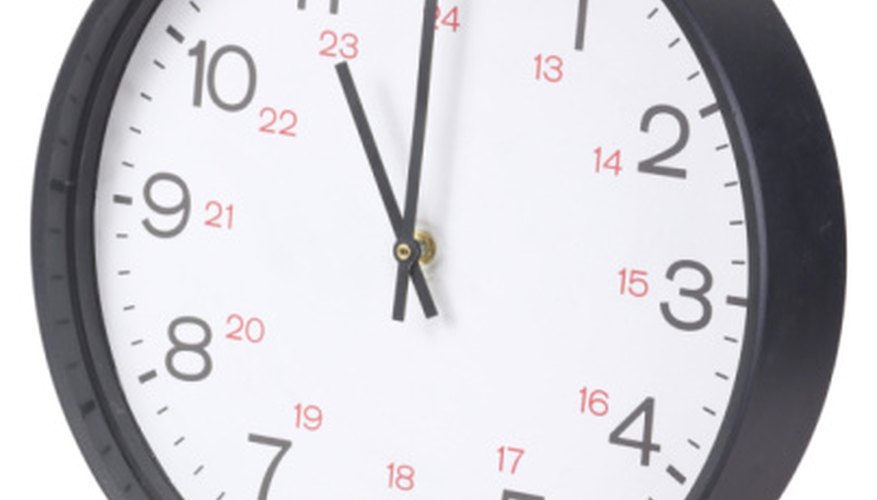 Hemera Technologies/PhotoObjects.net/Getty Images
From cereal boxes to bank statements, most people are exposed to percentages in everyday life. A brief lesson, demonstrating how to convert minutes into a percentage, will help you understand the basic concepts of this operation. Learning these concepts will enable you to progress to more advanced mathematical operations and help you understand the percentages you encounter in everyday life.
Write the minutes as fractions of an hour. Use the minutes as the top number or numerator of the fraction and 60 minutes (equivalent of one hour) as the bottom number or denominator. For example, 15 minutes written as a fraction of an hour is: 15/60.
Convert the fraction to a decimal number by dividing the number of minutes by 60. Fractions indicate division of the top number by the bottom number. Returning to the example of 15 minutes, 15 divided by 60 is 15/60 = 0.25.
Convert the decimal number to a percentage by moving the decimal point two places to the right and adding the percentage sign at the end. Using 0.25 as the example, it converts to 25 percent. "15" minutes converts to 25 percent of an hour.
Tip
If the numerator and denominator have a common factor (a number that divides evenly into both number), you can reduce the fraction (divide the top and bottom number by the greatest common factor) to make division easier. "15" is the greatest common factor of 15 and 60; 15/60 reduces to 1/4. A percentage is basically a fraction with a denominator of 100, moving the decimal point two places changes the decimal number by hundredths. Moving the decimal point two places to the right is equivalent to dividing by 100, and moving the decimal point two places to the left is equivalent to multiplication by 100.