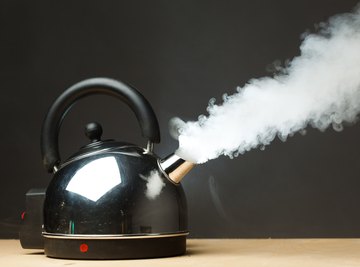 •••
nikkytok/iStock/GettyImages
When you're designing a heating system it's often necessary to convert between the measurements commonly used with your energy source and the unit – typically British Thermal Units or heat units – used to measure your output heat. If you're converting from pounds of steam, for example, you can use a simple rule of thumb for a quick estimate or multiply by a conversion factor to get the precise number.
The Conversion Factor
Steam heating has been used for a long time, so its relationship to BTUs, horsepower and other measurements is well established. For the low-pressure steam typically used in heating systems, that ratio is 1,194 BTUs for every pound of steam the system provides. If your boiler supplies 400 pounds of steam per hour, for example, you would multiply 400 pounds by 1,194 to arrive at a figure of 477,600 BTUs. From there you'd need to calculate how best to distribute that heating potential throughout your structure, which involves a different set of calculations.
The Rule of Thumb
Since the actual conversion factor of 1,194 BTUs per pound of steam isn't convenient for mental math, it's often useful to round down to 1,000 BTUs per pound. This quick calculation is handy in a number of ways. If you're deciding between boilers of differing capacities, for example, that fast mental math can tell you which boiler is closer to meeting your needs. It also provides you with a fast mental check on your calculations: If you divide your BTUs by 1,000 and the number you get isn't close to the number of pounds of steam you're working with, there's probably an error in your math. The more pounds of steam in your system, the less accurate this rough-and-ready estimate becomes, so you should follow through by calculating the actual numbers.
References
Tips
For most heating design purposes, a conversion rate of 1,000 Btu to 1 lb. of steam is close enough to be satisfactory, and it is much easier to calculate. For example, 500 lbs. of steam equals 500,000 Btu.
Warnings
Always double-check the results before using them if they are part of a heating design or another project where legal regulations or safety issues are involved.
About the Author
Fred Decker is a prolific freelance writer based in Atlantic Canada, where he grew from the kind of kid who read his encyclopedia for fun to the kind of adult who reads academic papers for fun. He was educated at Memorial University of Newfoundland and the Northern Alberta Institute of Technology. Aside from Sciencing, his articles on science and food science have appeared on major sites including eHow, Livestrong, TheNest, Leaf.TV and SFGate.com.