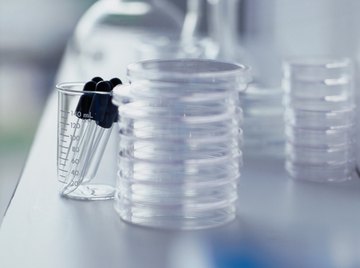 •••
Ryan McVay/Photodisc/Getty Images
When scientists conduct microbiology experiments, they need to make sure that no unexpected microorganisms are growing in their petri dishes and test tubes. The process of killing or removing all microbes capable of reproduction is called sterilization, and it can be accomplished by both physical and chemical methods. For pre-wrapped petri dishes, however, the most effective technique is exposure to ionizing gamma radiation or electron beams.
Shooting for Sterilization
After the petri dishes are placed in their final plastic wrapping, they are blasted with a high-energy beam of either gamma radiation, which is generated from a radioactive element such as cobalt-60, or electrons, which are produced by an electron accelerator. When these beams hit the microorganisms, they damage their DNA sequences, causing mutations that render the microbes unable to reproduce.
References
About the Author
Daniel Walton is a Cincinnati-based science writer whose articles have appeared on the blog Sword of Science and the Internet science hub Real Clear Science. He holds a Master of Science in crop science from the University of Illinois and grows a substantial vegetable garden in his backyard.
Photo Credits
Ryan McVay/Photodisc/Getty Images