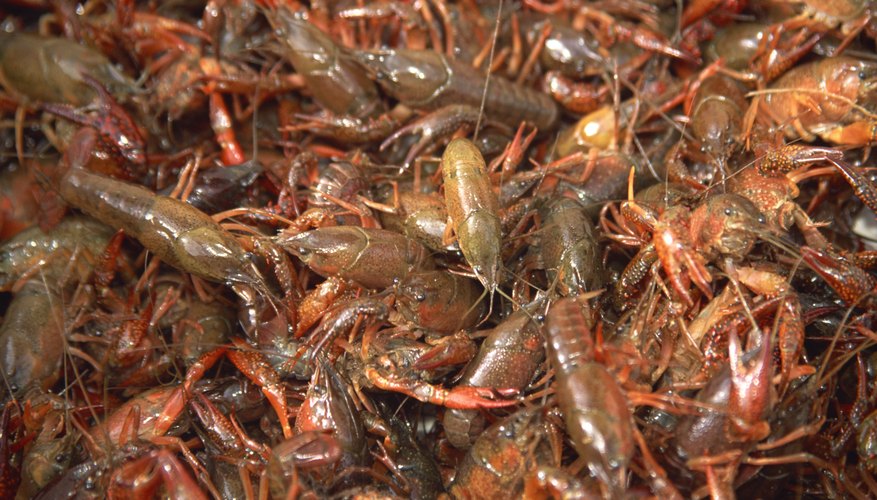 Also called crawfish or crawdad, crayfish refers to more than 500 species of crustaceans from the families Astacidae, Parastacidae and Austroastracidae. Like other crustaceans, crayfish pass through metamorphosis during their life cycle and have a tough exoskeleton, divided into several segments. Most crayfish live in fresh water, where they get oxygen through special organs called gills.
Respiration
Like most aquatic animals, crayfish breathe through gills, which are present in both sides of the cephalothorax, a body part formed by the fusion of the head and the thorax. When water passes through the gills, the dissolved oxygen diffuses into the bloodstream. When in the gills, the carbon dioxide found in the blood stream is released to the water. Crayfish have two sets of gills protected under the exoskeleton.
Body Structure and Size
The body of a crayfish is made up of cephalothorax and the abdomen, which together have 20 body segments. They have four pairs of walking legs and a pair of cheliped, which are adapted legs with claws. Crayfish also have two pairs of antennae, which they use as sensory organs. Sizes of crayfish vary widely according to species, but most species are about 3 inches in length. Measuring less than 1 inch, Cambarellus diminutus is one of the smallest species of crayfish, while Astacopsis gouldi, native of Tasmania, can reach 15 inches in length.
Circulatory System
The main function of the circulatory system of a crayfish is to transport oxygen from the gills to all cells, while at the same time it collects carbon dioxide that is later eliminated in the gills. Like other crustaceans, crayfish have closed circulatory systems, which means that the blood circulates inside vessels. The heart is located in the dorsal part of the body of a crayfish.
Life Cycle
Crayfish mate during fall, but females lay the eggs only when spring arrives. Females often keep their eggs attached to the abdomen. After about eight weeks, they hatch releasing larvae that are very similar to adults in shape and live attached to the female for several weeks. After molting several times, crayfish reach sexual maturity. Life span is generally four to eight years, but some species can reach 20 years of age.