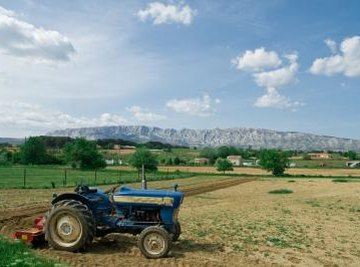 •••
Jupiterimages/Photos.com/Getty Images
Cub Cadet was the first company to introduce a lawn tractor with a zero-turn radius to the market. It was also the first power equipment manufacturer to employ heavy-duty hydrostatic automatic transmissions in its equipment. This company manufactures an extensive line of power equipment, including utility vehicles, snow blowers and compact tractors It also manufactures several lines of riding lawn mowers, walk-behind mowers and lawn tractors, such as the 1330 model lawn tractor. Improperly operating the Cub Cadet 1330 can result in injury to the operator; operators should exercise extreme caution while employing this lawn tractor.
Engine Specifications
Cub Cadet's model 1330 lawn tractor has been fitted with an engine produced by the Wisconsin-based Kohler Company. This engine was designed to produce outputs in the 12.5-horsepower range. The Kohler engine in this Cub Cadet was designed as a single-cylinder engine with a 3.43-by-2.64-inch bore and stroke. "Bore" and "stroke" are terms that refer to cylinder diameter and the distance that pistons revolve within an engine, respectively. The total piston displacement on this Kohler engine is 24.29 cubic-inches.
Dimensions
The Cub Cadet 1330 lawn tractor was designed to the same dimensions as the 1325 model lawn tractor. These particular models of Cub Cadet lawn tractors feature a 45-inch wheelbase. The Cub Cadet 1325 and 1330 were designed to a total length of 68.5 inches. The mower attachment on these lawn tractors measures 38 inches. These lawn tractors' mower attachments can be adjusted to offer cutting heights between 1.5-inches and 4 inches. 1325 and 1330 models employ 15-by-6-by-6 front tires and 20-by-10-by-8 rear tires.
Other Specifications
The Cub Cadet 1330 lawn tractor can travel forward at a maximum speed of 5.5 miles per hour. In reverse, this lawn tractor can travel at a maximum speed of 3 miles per hour. This Cub Cadet employs 759-3336 spark plugs, which are supposed to be installed leaving a .040-inch gap. The battery fitted into this lawn tractor is a Cub Cadet 725-3061 model battery and the alternator is a 15-amp, regulated alternator. The Cub Cadet 1330 lawn tractor features 20-amp automotive fuses, General Electric 12-volt 1141 headlight bulbs and external single-disc brakes. This Cub Cadet's fuel tank offers a 3-gallon fuel capacity.
References
Photo Credits
Jupiterimages/Photos.com/Getty Images