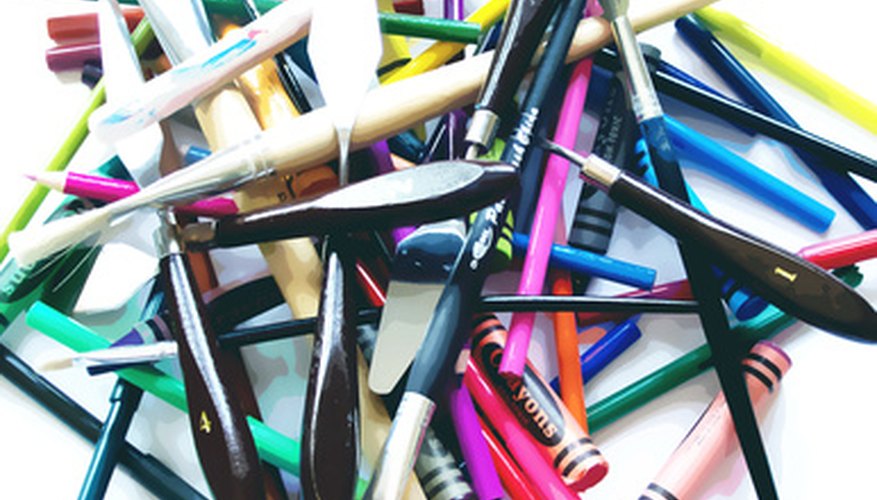 Presenting attractive and neatly assembled projects at school gives you the head start in earning a good grade, regardless of the type of project it is. From writing assignments to science fair entrees, decorating your project serves as a fun way to showcase some of your best work.
Writing Folder
Create a title out of font stencils to be placed on the front cover of your binder. The binder holds your writing or art school projects. Choose a title like "My Art-Folio" or "My Writing Journal."
Place the stencils over the center of the front cover of the binder. Fill in the stenciled fonts with a black permanent marker.
Go over the text with a glitter glue stick to add sparkle to the cover.
Surround the text in the center of the front cover with stenciled designs such as butterflies and stars. Fill the stencils in with a variety of color with your markers.
Cover various designs with the glitter glue to add further sparkle to the project.
Model Volcano
Paint the base of your model volcano project with varying shades of green, brown and gray to create an area of terrain surrounding the volcano's caldera or cone.
Use brown acrylic to paint up the cone of the volcano project. Add accenting touches of gray and green paint to signify scattered foliage and rock.
Add a second layer of color to both the base and the caldera of the model volcano. Allow the model approximately two hours to dry.
Glue various small model trees and shrubs to the base of the painted model. These small models are found in hobby shops and online.
Paint the inner rim of the caldera deep red.