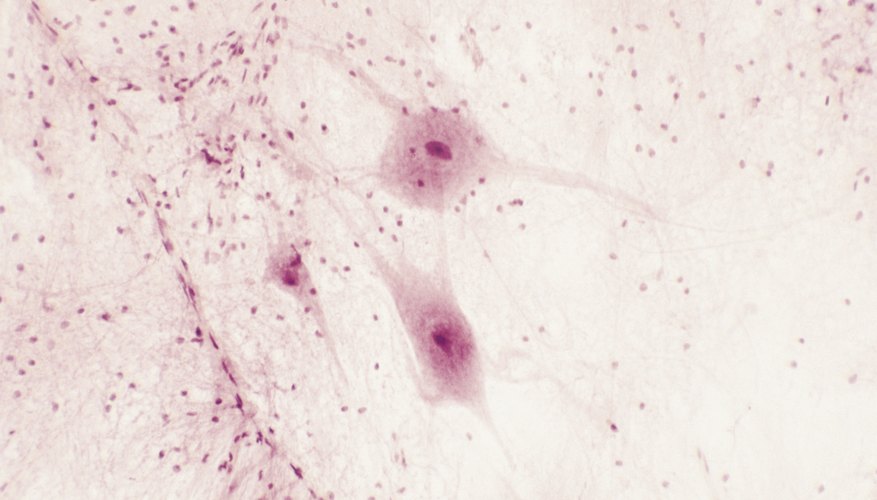 Ablestock.com/AbleStock.com/Getty Images
Life is really all about chemistry, because living organisms such as humans are made up of molecules. Many of these molecules are quite complex, however, and the ways in which they interact are even more so. Molecular cell biology is the study of how molecules interact to give rise to the properties of cells -- their ability to grow, maintain themselves and divide.
Structure
Think of a cell as a package of broth enclosed by a membrane. The broth is consists of water, dissolved salts, sugars, vitamins, amino acids, proteins and nucleic acids, the building blocks of DNA. The membrane is made up of fatty molecules that don't mix well with water. Interactions between different proteins, nucleic acids and small molecules carry out all essential functions of a cell, from breaking down sugars for energy to growth and cell division. Molecular cell biology studies how these interactions accomplish essential cell functions.
Nucleic Acids
One of the most important features of the contents of a cell are the nucleic acids, which provide coded information vital to the cell's function. This information is controlled by sequences of specific molecular groups called nucleotides. These "letters" of the genetic code are located in the DNA of genes. Molecular cell biology studies the way that genes affect the processes that occur inside the cell, how genes interact with each other and how they are regulated so that specific genes are active at specific times.
Proteins
Proteins do most of the work in the cell. Some proteins reinforce a cell's structure and give the cell its shape. Other proteins catalyze or speed up vital chemical reactions such as the digestion of sugar. Still other proteins play critical roles in translating the DNA code, regulating genes or receiving and responding to chemical signals from other cells such as hormones. A protein's complex, three-dimensional shape determines its function. Molecular cell biology studies the function of proteins inside the cell and how protein shapes relate to what they do.
Cells
Cells in the body perform many different tasks. Nerve cells carry messages via electrical impulses, and liver cells break down toxic compounds in the bloodstream, for example. Nerve and liver cells have the same genes, but specific genes are active in each type of cell. Molecular cell biology studies how the molecular components of different cell types enable them to perform their jobs and how regulation of genes in the DNA code causes cells to form different types of specialized cells.