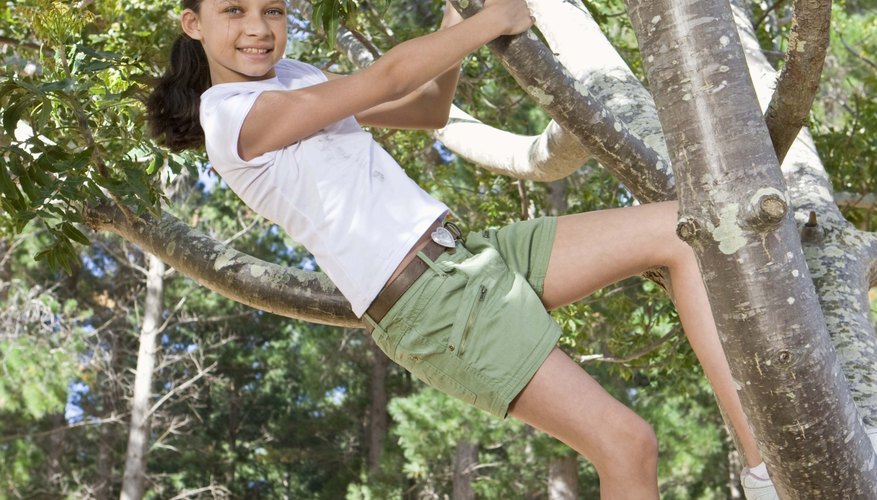 Jupiterimages/BananaStock/Getty Images
Trees are critical to environmental health. They absorb carbon dioxide from the atmosphere, provide habitat for wildlife and anchor topsoil to the ground. Trees are cut down to clear land for agricultural and commercial development or to harvest timber. The effects of this deforestation are far-reaching and affect more than just the forested communities that lose tree cover.
Forest Facts
About one-quarter of the Earth's land, excluding the polar regions, is covered by forests. Every year, deforestation reduces forest cover significantly; scientists at the University of Michigan estimate that half of the Earth's forest ecosystems have already been destroyed. More than 50 percent of the world's forests are located in the tropics, with the rest in the temperate and boreal zones. Brazil has the highest rate of deforestation, with more than 3 million hectares of forest cut down annually.
Clearing the Air
Trees absorb carbon dioxide and convert it to glucose during photosynthesis. Forests are major carbon storage centers, but deforestation releases all of the stored carbon back into the atmosphere. This has serious global consequences, because carbon dioxide is a greenhouse gas that traps heat in the atmosphere and contributes to climate change. Global warming already has had significant effects on sea levels, sea ice and weather patterns. Several species, such as polar bears, have been displaced by habitat changes that result from climate change. When sea ice melts, the bears are unable to hunt and often starve.
Changing the Weather
Deforestation not only contributes to changes in the climate, it also causes localized changes in the weather. Trees transpire, or release water into the atmosphere, during photosynthesis. This water replenishes clouds and maintains rainfall. Without the transpiration of trees, deforested areas become drier. Changes in weather and shelter cause deforested areas to undergo a tremendous loss of biodiversity, which has global consequences when forests harbor unique species. Scientists have not yet tested even 1 percent of the plants in tropical rainforests for medicinal use, but they regularly discover species useful to people. However, some of these forests and their potential benefits may disappear by the end of the 21st century.
Altering the Food Supply
Deforestation is a threat to the human food supply in several ways. Climate change, influenced by deforestation, alters growing conditions for several food crops. Forests themselves are an important food source for more than 1 billion people in developing countries. In addition, when trees are cut down, their roots rot and fail to hold nutrient-rich topsoil in place. Good topsoil is essential to the productive growth of food crops. When the food supply is threatened, food prices increase and more people struggle to feed their families.