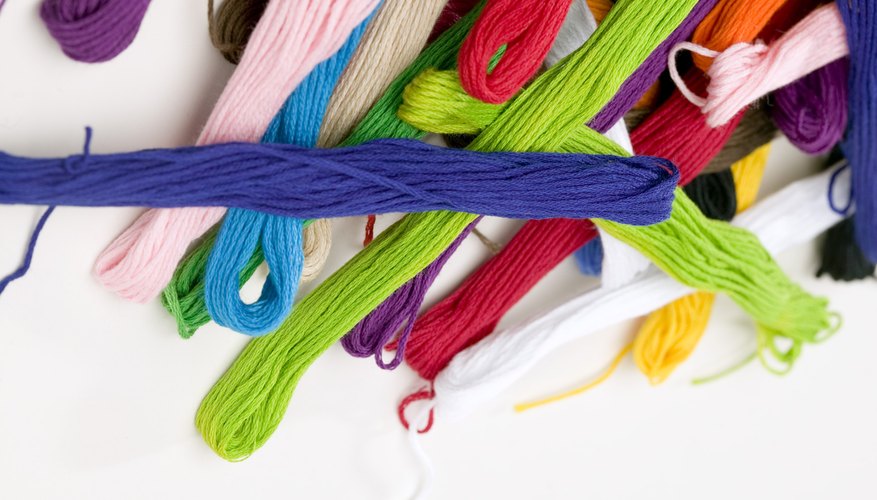 Jupiterimages/liquidlibrary/Getty Images
To determine the strength of thread or yarn, the textile industry does not attempt to measure the diameter of the yarn. Instead, it measures yarn length and weight to estimate yarn thickness. The industry has developed several such systems of measurement since the invention of spinning machines. One system uses a unit called the denier.
Indirect and Direct Systems
Indirect systems of estimating yarn size use a standard weight unit, such as the pound or kilogram, as a starting point. Such systems keep adding more and more yarn to the scale until the desired weight is present. The resultant length of yarn, compared with the weight, serve as a basis for estimating yarn size. In contrast, a direct system weighs a specific yarn length and uses the resultant figure as a basis for estimating yarn size. Denier measurement uses such a direct system.
Denier Measurement
The denier is obtained by weighing 9,000 meters of yarn or thread, expressing the result in grams. Thus the denier is a measure of linear density expressed in terms of grams per 9000 meters. Since a yarn with a higher denier has more mass per unit length than a yarn with a lower denier, it is thicker and tougher, provided that both yarns are made of the same kind of material. For this reason, the term "denier" has come to mean the size of a thread or yearn.
Fiber Numbers
Such materials as silk consist of long unbroken strands called fibers or filaments. Weighing a 9,000-meter long fiber measures its fiber number, which is the denier value of the fiber, or its linear density. The fiber number multiplied by the number of fibers in a cross-section of the yarn equals the denier value of the yarn. Synthetic materials, such as polyester, may have fibers with fiber numbers less than one. The linear density of such fibers are measured in smaller units called microdeniers.
Standard Conditions
Denier measurement must take place under standard conditions. In the United States, standard conditions are 70 degrees Fahrenheit and 65 percent relative humidity, according to "Riegel's Handbook of Industrial Chemistry" by Emil Riegel and Albert Kent. If higher humidity prevails during the measurement, the extra moisture in the yarn results in a higher denier value. The yarn will consequently seem to have a larger size than it actually has.