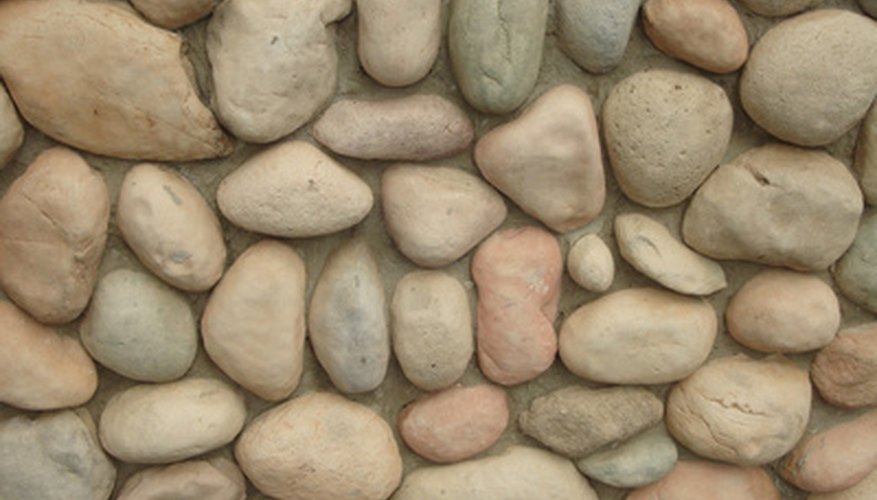 You need only two measurements to calculate the density of a rock, and both are relatively simple to accomplish with the correct equipment. Density of a substance equals its mass divided by its volume. The higher the density, the more massive is the stuff compacted into a given amount of space. If the density of a substance is greater than that of water, then it will sink. If it is less than the density of water, then it will float.
Select a small, whole rock, which can be easily managed.
Weigh the rock on your scale. The true measurement of mass is grams, but since mass and weight are closely related by gravity, weight in pounds is frequently used in the United States in density calculations.
Fill a beaker half-full of water and carefully record the volume. The volume will be the measurement which corresponds to the water level. If you measured the weight, in pounds, then use units of cubic inches. If you measured true mass in grams, then use the units of cubic centimeters.
When looking at the water level, you will notice a slight curvature of the water, which might complicate the reading. However, since ultimately you are measuring the change in volume, then as long as you measure the same way in this step and the next, you will get accurate results. However, technically speaking, the measurement should be read at the center of the curvature, its lowest point.
Drop the rock into the beaker and record the new volume. The rock will displace the water, causing its level to rise. The amount of displacement is the volume of the rock. Subtract the first volume measurement from this second volume measurement to calculate the rock's volume. As an example, if you measured 20 cubic inches before, and the new measurement is 30 cubic inches, then the volume of the rock is 10 cubic inches.
Divide the mass, or weight, by the volume to calculate density. In the example, a 1-lb. rock will have a density of 0.10 lbs. per cubic inch.