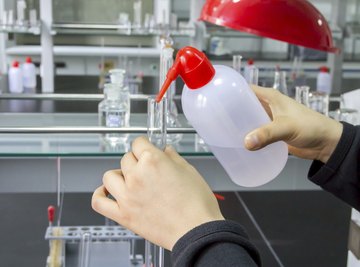 •••
MicroBeans Studio/iStock/Getty Images
The expression 'slower than molasses in January' refers to two intrinsic properties of fluids: viscosity and density. Viscosity describes a liquid's resistance to flow—compare molasses and water, for example—and is measured in pascal-seconds. Density is a measure of the mass of a substance per unit volume and is measured in grams per milliliter.
How Slow Can You Flow?
Imagine a garden hose with no nozzle. If you turn on the tap, water will come shooting out the open end. However, if the pipes were filled with mud instead of water, you'd be lucky to get sporadic gobs coming out; mud has a higher viscosity than water. Generally, low-viscosity fluids, such as water, also have a low density. At a balmy 70 degrees Fahrenheit, water has a density of 0.99 grams per milliliter and a viscosity of 0.0009 pascal-seconds. Some metals are an exception to this trend. Liquid mercury has a density of 13.5 grams per milliliter and a viscosity of 0.016 pascal-seconds.
References
About the Author
Carolyn Robbins began writing in 2006. Her work appears on various websites and covers various topics including neuroscience, physiology, nutrition and fitness. Robbins graduated with a bachelor of science degree in biology and theology from Saint Vincent College.
Photo Credits
MicroBeans Studio/iStock/Getty Images