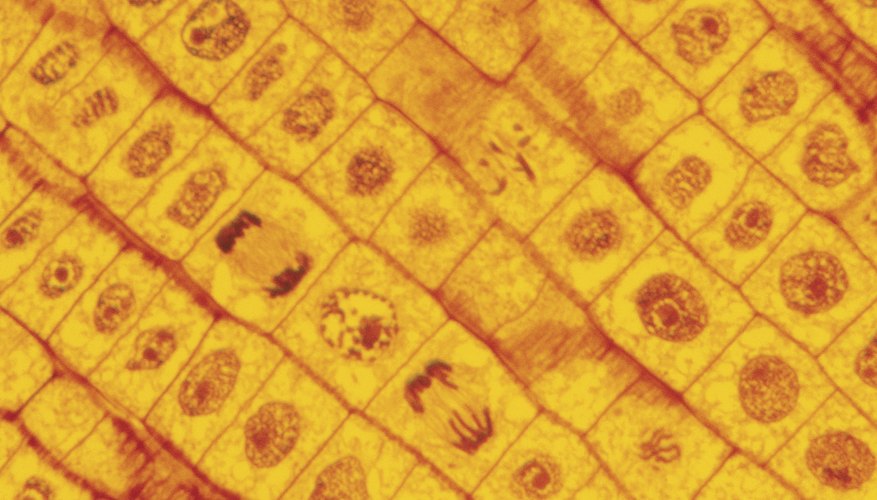 Comstock Images/Stockbyte/Getty Images
Mitosis is part of the process of cell division. Mitosis is essential for cells to reproduce, whether they are a single-celled organism or part of a multi-celled organism that needs to grow. For the purposes of reproduction, mitosis helps to produce two organisms of the same species. For organismal growth, mitosis produces more cells of the same type, which can serve the same function in an organ.
Identical Copies
At the most fundamental level, the purpose mitosis is for one cell to turn into two identical or similar cells. A cell does this by replicating its DNA, which carries the information that tells a cell what it should be and do. DNA replication happens during interphase of the cell cycle. But it is M phase, or mitosis, that physically separates the DNA. Mitosis is a multi-step process that evenly divides a cell's duplicated DNA between two cells so that each will have the same amount of DNA as the original cell.
Healing Wounds
Human skin is a continuous later of cells that forms a barrier against the outside world of toxins and pathogens. When a laceration breaks this barrier, the skin is able to make more skin cells to fill in the damaged area. This is called wound healing and is only possible because of mitosis. Skin cells surrounding the wound undergo mitosis to make more copies of themselves. The new cells fill in the wound side-by-side and form junctions with each other, restoring the skin's barrier function at the site of the wound.
Sciencing Video Vault
Create the (almost) perfect bracket: Here's How
Reinforcements Have Arrived
Certain organs of the human body need to frequently replenish their cells. The inner lining of the large intestine, or colon, consists of cells that regularly die and slough off. In order to maintain proper food absorption capabilities, the colon has stem cells that undergo mitosis to produce cells that will mature into absorption cells. These mature cells move into the lining of the wall and take the place of cells that are lost.
Energy Storage
Organisms, such as humans, have the ability to store energy for later use. Excess food is converted to chemical energy, one form of which are triglycerides -- otherwise known as molecules of fat. Cells that store fat are called adipocytes. Under conditions of excess food consumption, adipocyte stem cells undergo mitosis to make copies of themselves. These copies then differentiate, or mature, into storage cells that enlarge as they collect fat molecules.