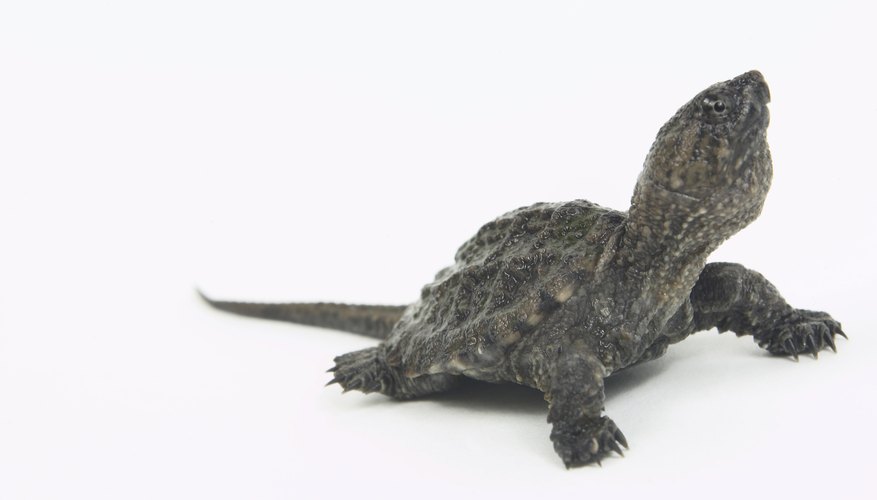 Snapping turtles are a species of turtle that defend themselves by snapping at threats with their powerful jaws. The reason that snapping turtles snap is that unlike other turtle species, their bodies are too large to fit entirely within their shells. Determining the age of turtles is done by counting the rings on their shell, much like one would do with a tree. The challenge to counting the rings on a snapping turtle is that you must avoid their powerful jaws.
Wait until the late fall or winter and set a turtle trap in a location known to have snapping turtles. Turtle traps are available at hardware stores and should be baited with lettuce or other produce. Check the trap daily until a snapping turtle is caught.
Put on thick gloves and carefully open the turtle trap. Allow the turtle to exit on its own and then grab the rear of the turtle so that the jaws are facing away from you.
Place the turtle on a flat surface and hold it down gently on either side of the shell.
Examine the top of the turtle shell and notice that there are approximately 10 to 12 sections. Pick a single section and look at the very edge of it to locate the long thin lines that indicate age..
Start at the outer edge of the section and count each line while working your way toward the center of the shell section. The total number of lines counted represents the age of the turtle.
Release the turtle back into its natural habitat.
Tip
It's easier to count the rings in the shell during winter months because the excess scales have sloughed off.
It sometimes helps to use the tip of a pen as you count the lines since they are spaced very close together.