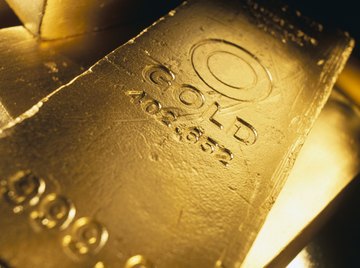 •••
Hemera Technologies/Photos.com/Getty Images
Gold is too soft to be made into jewelry on its own, so it is alloyed to be harder, using the karat, a measure of gold-to-alloy ratio. It is called carat in other parts of the world, though in the United States the spelling carat is used for gemstones.
Karat
A karat is 4.1667 percent part of a substance, or 1/24th of the whole, making 24-karat gold pure gold.
10 Karat vs. 14 Karat
Ten-karat gold means that there are 10 parts gold to 14 parts of an alloying material, while 14-karat gold is 14 parts gold to 10 parts alloying metal.
Etymology
The word karat comes from the Middle English word "carrat," and dates from the 1400s.
Types of Gold
The color of gold can be altered by the alloy it is mixed with. Types of gold available include:
yellow

green

purple

rose

blue

white
Considerations
Different karat levels of gold are better for certain jewelry pieces than others. The lower the gold content is in the metal, the more durable the piece is.
References
About the Author
Joan Reinbold is a writer, author of six books, blogs and makes videos. She has been a tutor for students, library assistant, certified dental assistant and business owner. She has lived (and gardened) on three continents, learning home renovation in the process. She received her Bachelor of Arts in 2006.
Photo Credits
Hemera Technologies/Photos.com/Getty Images