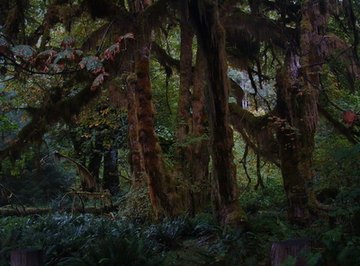 •••
the dense rain forest image by Elmo Palmer from Fotolia.com
Forests are like their own little universes. Just like galaxies in the universe, there are ecosystems that operate independently of the whole, yet contribute to the vastness of the forest. These ecosystems can be borded by trees and brush. These trees can form an open or closed canopy.
Closed Canopy
Often seen in rain forests, closed canopies are a set of mature trees whose leaves and branches come together as if to enclose, or crown, the ecosystem.
Pros/Cons of Closed Canopy
Closed canopies can hamper the development of vegetation beneath it because the crown prevents much needed sunlight from getting through. However, in high winds and other disastrous weather, the canopy also protects the environment below.
Open Canopy
Open canopies are a collection of tall trees that have not grown together to shield the sun away from the vegetation below.
Pros/Cons of Open Canopy
Open canopies allow sunlight to shine through, therefore promoting the growth through photosynthesis of plants below. However, wildlife is less plentiful as it takes refuge under the cover of closed canopy areas.
References
"Forest Canopies"; Margaret Lowman, H. Bruce Rinker; 2004
"The Human Lineage"; Matt Cartmill, Fred H. Smith, Kaye B. Brown; 2009
Resources
"Journal of Geophysical Research: Volume 112"; American Geophysical Union; 2007
About the Author
Sam Williams has been a marketing specialist and ad writer since 1995. He has been published in magazines such as "Reaching Out" and "Spa Search." He served in various sales and marketing positions with major corporations such as American Express, Home Depot and Wells Fargo. Williams studied English at Morehouse College.
Photo Credits
the dense rain forest image by Elmo Palmer from Fotolia.com