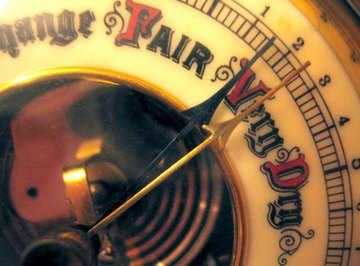 Barometers, manometers and anemometers are all scientific instruments. Scientists use barometers and manometers to measure atmospheric pressure, while anemometers measure wind speed.
Manometers
A manometer is a tube-like device which measures atmospheric measure. There are two types: closed tube and open tube, but both measure pressure by comparing the pressure exerted by the atmosphere at one end of the tube with a known pressure at the other. Manometer tubes are typically filled with mercury.
Barometer
Barometers also measure atmospheric pressure. Mercury barometers are a type of closed-tube manometer, while aneroid barometers use a small, spring balance to take the measurement. In the past, mercury barometers were common in family homes where people used them to predict the weather based on the air pressure reading. Rising air pressure meant good weather was on the way, while falling pressure might bring rain.
Anemometers
Anemometers are a completely different type of instrument used to measure wind speed. There are several different types, but the most common—the cup anemometer—takes the measurement by recording the number of times the wind rotates a fan-shaped device.
References
About the Author
Rita Kennedy is a writer and researcher based in the United Kingdom. She began writing in 2002 and her work has appeared in several academic journals including "Memory Studies," the "Journal of Historical Geography" and the "Local Historian." She holds a Ph.D. in history and an honours degree in geography from the University of Ulster.
Photo Credits