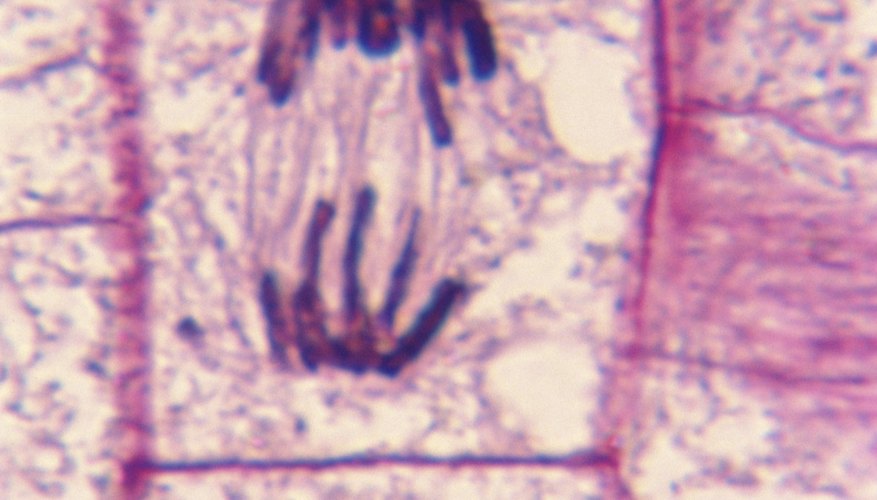 Jupiterimages/Photos.com/Getty Images
Your chromosomes are cellular structures composed of deoxyribonucleic acid and proteins. DNA is the molecule that nature has selected to transmit genetic information from one generation to the next. Human cells have 23 pairs of chromosomes, one pair member from each parent. Cells must duplicate their chromosomes before they can divide.
Chromosomes Are Awesome
DNA is a long polymer of alternating sugar and phosphate groups. Hanging off each sugar unit is one of four nucleoside bases, single- or double-ringed molecules containing nitrogen. Each chromosome contains two strands of DNA that form the famous double helix structure, which resembles a circular staircase. Proteins known as histones surround the double helix, helping to stabilize and compress it. Each chromosome is a long linear structure until the cell replicates the DNA.
The Cell is a Cycler
Cells go through alternating stages of growth and division, and spend most of their time in the growth stage, called interphase. It is also during interphase that DNA replication occurs as the chromosomes assume a relaxed state. The cell's replication machinery separates each double helix and uses one strand as a template to build a new complementary strand. The result is a chromosome with two double helices joined by a glob of protein called a centromere. The overall structure resembles the letter "X," and each arm is called a chromatid.
The Miracle of Mitosis
Mitosis is the process of nuclear division, in which chromosomes are distributed to two developing daughter cells. Interphase passes into mitosis when the chromosomes begin to thicken and condense. At this point, the X structure becomes visible. The nuclear membrane surrounding the chromosomes disintegrates, and the double-chromatid chromosomes migrate to the center of the cell. Microtubules from either side of the cell grab the chromatids and pull them apart as the centromeres dissolve. The separated sister chromatids are thus transformed into daughter chromosomes. In humans, this translates into two sets of 23 pairs, with each set pulled to opposite sides of the cell.
Cytokinesis, a Sight to See
As mitosis enters its final phase, a nuclear membrane reforms around each set of chromosomes. The cell then begins cytokinesis, or cell division. The central axis of the cell develops a furrow that deepens as new cell membranes form on either side of the furrow. Eventually, the furrow pinches the cell into two daughter cells, each with a nucleus containing a full set of single-chromatid chromosomes. The cell enters interphase, and the cell cycle repeats.