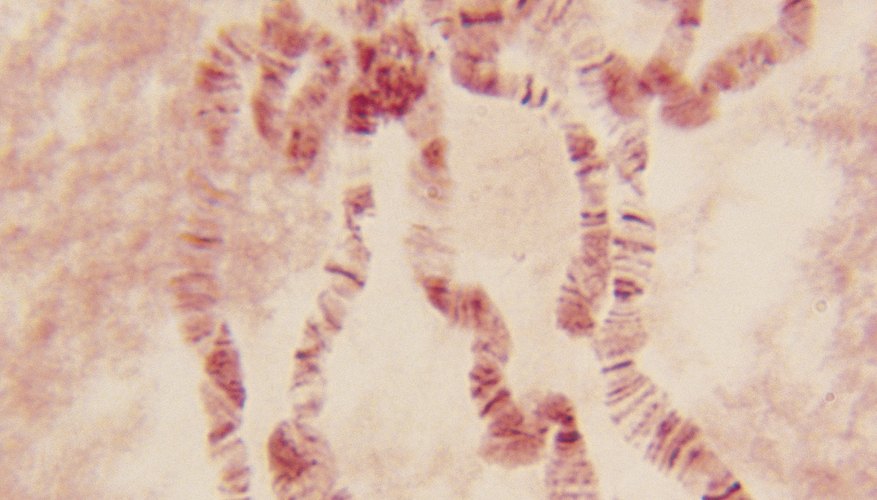 Comstock Images/Stockbyte/Getty Images
In 2003, scientists working on the Human Genome Project declared the sequencing of human DNA complete. However, the sequence alone does not give us the full story. Chromosome and linkage maps are useful because we do not know what all of these sequenced genes actually do. Linkage, or how often traits are passed to offspring together, is used to map, identify and organize genes according to the phenotype -- or how the genes are expressed. Chromosome mapping identifies the physical location of genes on a chromosome.
Mapping Chromosomes
Chromosome mapping refers to the process of locating and identifying genes on a specific chromosome. A diagram used to display chromosome maps is called an ideogram. Ideograms help scientists identify chromosomes based on their size, shape and banding patterns, as well as pinpoint regions of a given chromosome. By comparing the genetic map, or ideogram, of an individual's chromosome with a standard ideogram, a geneticist can identify abnormalities in an individual's genetic code.
Linked Genes
Genes that are close neighbors on the chromosome are more likely to be linked, meaning they are often inherited together. This is referred to as genetic linkage. For example, flower color and pollen shape of the sweet pea plant are inherited traits that are linked together in offspring. In general, the closer two genes are located, the greater chance that they will be inherited together. The further apart two genes are on the chromosome, the greater the chance that they will be separated when DNA recombines during the cell division process of meiosis, resulting in a greater recombination frequency. Instead of a specific physical distance along a chromosome, a linkage map shows position of known genes or genetic markers according to their recombination frequency.