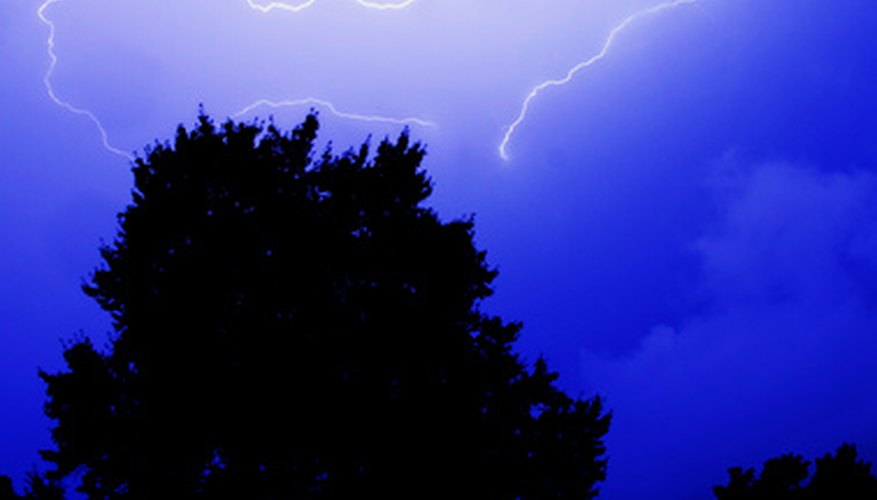 Ancient people believed the gods were angry when they heard the sound of thunder. While today we understand the physics of thunder, a thunderstorm can still be a little unsettling, and indeed, such storms often cause problems such as downed power lines and trees, and at times lightning can even cause death.
A Clap Of Thunder
Lightning is a violent electrical discharge in the atmosphere. It creates incredible heat, which causes air molecules to burst out in all directions, pushing against other molecules and creating a moving sound wave we call thunder. A single, loud blast or "clap" of thunder comes from the main trunk of a lighting bolt. You can use this sharp crack to determine the approximate distance of a lighting bolt by counting the number of seconds between when the lightning bolt is visible and the time when you hear the thunder clap. The light hits your eyes almost instantaneously, since light travels at 186,000 miles per second, but sound only travels at about 1,100 feet per second. It takes about five seconds between when you see a lightning flash and hear the clap of the thunder one mile away.
Rolling Thunder
A low-sounding rumble that carries on for a few seconds as opposed to a single loud clap is referred to as "rolling thunder." Rolling thunder can be the result of a long lightning streak from which sound emanates at both its closest and farthest ends, with these sounds arriving over a period of several seconds. The sound of a lighting discharge can also bounce off of clouds to create a long, rumbling effect. Large structures and mountains will also reflect sound waves and cause thunder to echo, resulting in a continuing "rolling" thunder sound.
Crackling Thunder
You can also hear thunder in the form of a sharp, crackling sound. This can occur as the main trunk of a lighting bolt forks out into a number of branches, which each branch contributing to the overall sound.