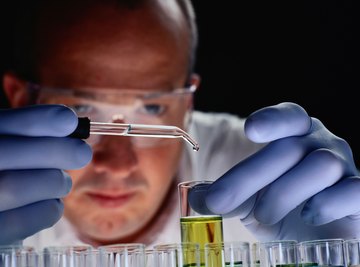 •••
Ryan McVay/Photodisc/Getty Images
Solvents and diluents are both types of agents that can be applied to other substances to break those substances down. They are sometimes misunderstood as being synonyms; however, solvents are liquids that dissolve other substances -- called solutes -- while diluents are liquids that dilute the concentrations of other liquids.
The Gray Area and the Distinction
The difference between solvents and diluents can be confusing because they appear to do the same thing, and because one substance can be either a diluent or a solvent, depending on how it's used. It's the nature of the use that illustrates how they're different.
For example, water is a solvent when you use it to dissolve a substance such as a sugar-based drink mix. You don't use the water to thin the drink mix, you use it so the mix breaks down and disperses in the water. However, when you pour additional water into the already-mixed drink, you're watering down the solution -- not dissolving it -- and so in this context the water you add is diluting the concentration.
References
About the Author
Christopher Cascio is a memoirist and holds a Master of Fine Arts in creative writing and literature from Southampton Arts at Stony Brook Southampton, and a Bachelor of Arts in English with an emphasis in the rhetoric of fiction from Pennsylvania State University. His literary work has appeared in "The Southampton Review," "Feathertale," "Kalliope" and "The Rose and Thorn Journal."
Photo Credits
Ryan McVay/Photodisc/Getty Images