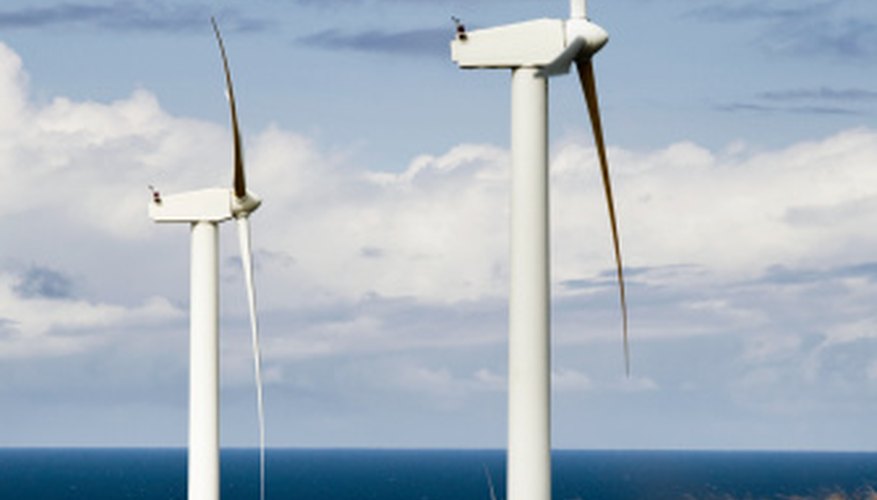 Jonas Jungblut/Pixland/Getty Images
Turbines and electric generators are the basic components in most methods of generating electricity. Coal, oil, gas, and nuclear, wind, and hydroelectric power plants all use both to create electricity from raw resources or natural power sources. They are commonly confused with each other, since both use rotating parts. Although turbines and generators both transform one kind of energy into another, there are several distinct differences between them.
Types of Energy Used
Turbines capture the kinetic energy of a compressed or moving working substance and transform it into rotational energy. The force can come from steam heated by coal, oil, or nuclear reactions or directly from the force of moving air or water. Generators, by contrast, transform rotational energy into electric current. This rotational energy usually comes from a turbine, although in a wind power system the two parts can be combined, since the wind turns a rotor directly.
Functional Principles
A turbine is a purely mechanical device that turns one kind of kinetic energy into another. A generator, by contrast, uses the principle of electromagnetic induction. Discovered by Michael Faraday in 1831, this principle describes the link between electricity and magnetism in which a changing magnetic field creates an electrical current in a conductive material. Induction also works in reverse, with any electrical current creating a magnetic field. Generators use this principle by using the rotational energy from a turbine to spin a coil of conductive wire inside a magnetic field. As the wire spins past the positive and negative poles of the magnet, an alternating current is produced which can then be transmitted across electrical wires.
Applications
Turbines are commonly used to provide engine power. Airplane jet engines and nuclear-powered ships use turbines to propel themselves, and gas turbines have been used to power ships, trains, cars and tanks. In all these cases, turbines transform the energy of an ignited fuel directly into mechanical energy that turns a propeller, car wheel, or jet fan. Electrical generators can also power vehicles, but not as efficiently, since electrical energy must be transformed back into mechanical energy using an electric motor before it can turn a wheel or rotor.