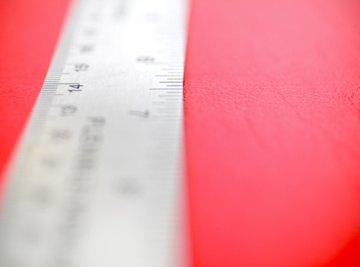 •••
NA/AbleStock.com/Getty Images
Yards and feet are both linear measurements. They measure the distance from one point to another following a straight line. These measurements may be used to measure objects, room sizes, road distances and heights.
Feet
One foot is equal to 12 inches. Feet can be measured using a ruler, which is typically equal to 1 foot. One foot is approximately the length of a piece of paper.
Yards
A yard is equal to 3 feet. Yards are usually measured by a yardstick, which equals 1 yard. One yard is the approximate length of a baseball bat.
Square Feet
Square foot measurements are used to determine the size of an area. Multiply the length times the width of the object to determine the square footage. A flat surface, such as a floor tile, that is 1 foot on each side, has an area of 1 square foot.
Square Yards
Square yards are determined by multiplying the length times the width of an area. Room carpeting is often measured in square yards. A room that is 9 feet by 12 feet, would convert to 3 yards by 4 yards. Multiply three times four to determine the area of the room is 12 square yards.
References
About the Author
Johanna Miller has been writing professionally since 2010. She has been published in various online publications. Miller holds an Associate of Business degree with a concentration in accounting from Stark State College.
Photo Credits
NA/AbleStock.com/Getty Images