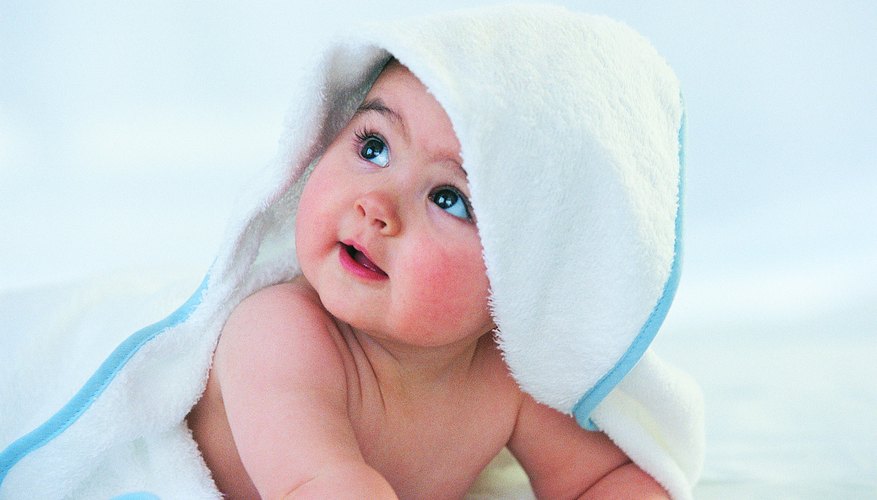 Digital Vision./Photodisc/Getty Images
New babies are both very like and very unlike adults. Most cell development and differentiation occur prior to a baby's birth, and baby stem cells, cells that can become different types of tissue, are essentially the same as adult stem cells. The cells and tissues of a baby are different from those of an adult, though. Babies need to survive outside the womb, grow, develop and adapt to the world to become fully functional adults, and the differences in their cells reflect this.
Brown Fat
It is a cold world outside the womb and babies have a comparatively large surface area and low muscle mass, and lack the ability to shiver, making them prone to hypothermia. The body's solution to this problem is brown fat. The human body has two types of fat cells. The majority store energy for the body, but brown fat cells decouple part of their cellular metabolism so that they can burn their stored energy and produce heat. Five percent of the fat cells in newborn babies are brown fat cells, a proportion that decreases to a barely detectable trace in adults.
Actively Dividing Cells
Most adult cells don't divide that often. In fact, uncontrolled cell division is a condition known as cancer. Babies need to grow to their adult size, and that means that their cells must divide faster than adult cells. Part of this growth is mediated by hormones, but part of it is intrinsic to the cell. When cells from babies and adults are grown in the lab, the infant cells divide as much as twice as quickly as the adult cells, depending on cell type.
Neural Connections
A baby's brain grows furiously in the womb, and babies are born with almost all the neurons they will ever have during their lifetime. What baby neuron cells lack are connections to other neurons. Neural connections represent the connections between ideas that are built from interacting with the world -- in other words, learning. Some learning happens in the womb, and babies are born with an average of 2,500 connections per neuron, but by age 2 or 3 they have an average of 15,000 connections per neuron. The number of connections per neuron levels off as you reach adulthood.
Immature Immune Systems
The nervous system isn't the only system that needs to interact with the world to develop properly. Babies come from a sterile environment and the cells of their immune system must learn to recognize and fight off diseases. Babies get some antibodies from their mothers, but their immune systems must learn to recognize and respond to foreign invaders. A new strain of B lymphocytes, the blood cells that create antibodies, must be created for each new threat. In this way the body builds a library of all the diseases it's ever encountered.